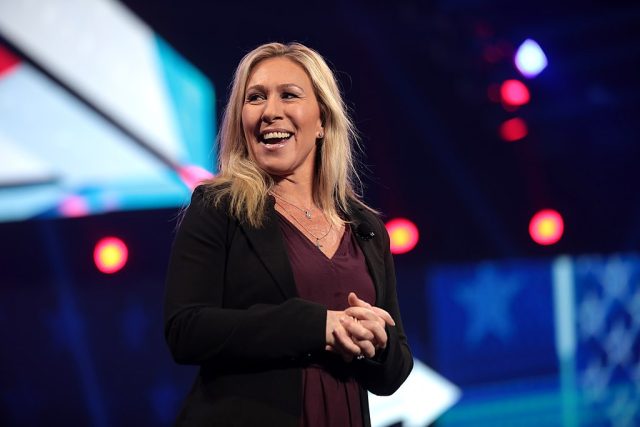 Georgia Republican firebrand Marjorie Taylor Greene is aiming high.
According to former White House strategist Stephen Bannon, the Georgia lawmaker is angling herself to potentially be selected as Donald Trump's choice for Vice President in what is his third pursuit of the White House.
"This is no shrinking violet, she's ambitious — she's not shy about that, nor should she be. … She sees herself on the short list for Trump's VP," Bannon told NBC News.
When Greene "looks in the mirror, she sees a potential president smiling back," Bannon added.

An unnamed source in the NBC News piece concurred that Greene's "whole vision" is to snag the second-in-command slot on Trump's ticket.  
The source noted Rep. Greene's recent efforts to rebrand herself as a politician who has the ability to "stand astride the divide between the party's hard-liners and its establishment wing" is definitely part of a larger goal.
Recently, MTG threw herself into the middle of the contentious battle to elect a new Speaker of the House. Bannon told NBC that Rep. Greene's support of Kevin McCarthy was a calculated risk.
"She's both strategic and disciplined — she made a power move, knowing it would run up hard against her most ardent crew," he said. "She was prepared to take the intense heat/hatred short-term for the long-term goal of being a player."
Rep. Greene has made a name for herself in Congress as a far-right firebrand and staunch supporter of the former President. The Republican lawmaker endorsed Trump even before his official 2024 launch.
This story is breaking. Click refresh for the latest updates.