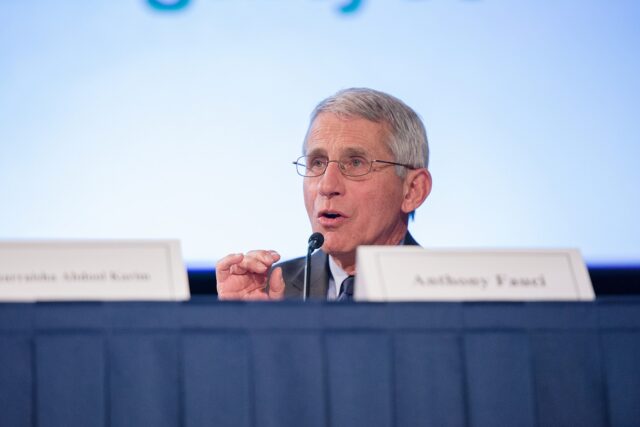 In the wake of revelations that the former Director of the National Institute of Allergy and Infectious Diseases Dr. Anthony Fauci may have knowingly lied to Congress in sworn testimony, U.S. Senator Rand Paul (R-Ky.) is asking the Justice Department to open a criminal investigation.
Paul has asked U.S. Attorney for Washington, D.C., Matthew Graves to open an investigation into testimony Fauci made to the United States Senate Committee on Health, Education, Labor, and Pensions (HELP) on May 11, 2021, in which Fauci denied funding research at viral laboratory in China where the COVID-19 virus reportedly originated.
"The NIH has not ever and does not now fund gain-of-function research in the Wuhan Institute of Virology," Fauci said under oath in May.
But a month later a June 14, 2023, Government Accountability Office report concluded the Wuhan Institute of Virology did receieve NIH funding.
There are concerns the COVID-19 virus "may have been genetically engineered because gain-of-function research was taking place in Wuhan before the pandemic," Paul reports.
Now Paul wants to determine if Fauci's statements were illegal.
"I warned Dr. Fauci of the criminal implications of lying to Congress and offered him an opportunity to recant his previous statement," Paul wrote in a letter to Graves. "Dr. Fauci's testimony is inconsistent with facts that have since come to light."
"Before Congress, Dr. Fauci denied funding gain-of-function research, to the press he claims to have a dispassionate view on the lab leak hypothesis, and in private he acknowledges gain-of-function research at the Wuhan Institute of Virology to his colleagues. His own colleagues have acknowledged Dr. Fauci's inconsistency. A congressional hearing, however, is not the place for a public servant to play political games – especially when the health and well-being of American citizens is on the line," Paul writes.
Under 18 U.S.C. § 1001 it is a federal crime to make "any materially false, fictitious, or fraudulent statement or representation" as part of "any investigation or review, conducted pursuant to the authority of any committee, subcommittee, commission or office of the Congress, consistent with applicable rules of the House or Senate."
The penalty for an offense includes criminal fines and imprisonment of up to five years.
The opinions expressed in this article are those of the author and do not necessarily reflect the positions of Great America News Desk. It was first published in American Liberty News.
READ NEXT: Ukrainian Special Forces Reportedly 'Pinned Down' During Night Raid In Crimea By Security Guard In Underwear