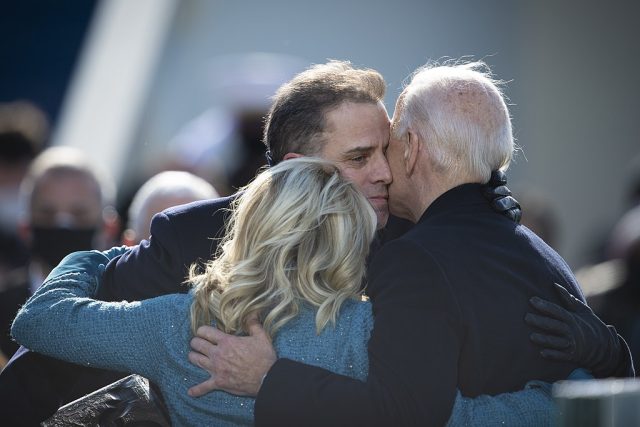 The Bidens will go down in the history books for all of the wrong reasons.
President Biden and his son Hunter have made history as the first president-son duo to be simultaneously – but separately – under federal investigation.
Hunter Biden has been under federal investigation since 2018 for his tax affairs which stems-in part- from suspicious activity reports (SARs) regarding some foreign transactions. Those SARs, according to sources familiar with the investigation, involved funds from "China and other foreign nations."
"This is the first time that in American history we have a sitting president and one of his children – in this case, his son – who are under formal investigation in the United States," Heritage Foundation President Dr. Kevin Roberts, a historian of early American history, told Fox News Digital. "In thinking about this, investigating it, and putting all politics aside, I cannot think of an example that even gets close to this."
"I think it is important that as Americans strive to get out of the morass of current politics, and especially the unethical nature it seems of this current administration, that we realize the truth first," Roberts continued. "And in this case, the truth hurts."
Joe Biden is under investigation after multiple batches of classified documents were discovered at the University of Pennsylvania Biden Center and his Wilmington, DE home.
On Friday, another round of documents were discovered at Biden's Delaware home. According to The Hill, Bob Bauer, a personal lawyer for Biden, said in a statement that the Justice Department was given access to the president's home after previous searches in recent weeks turned up a total of 11 classified documents.
"DOJ requested that the search not be made public in advance, in accordance with its standard procedures, and we agreed to cooperate," Bauer said.

"DOJ had full access to the President's home, including personally handwritten notes, files, papers, binders, memorabilia, to-do lists, schedules, and reminders going back decades," Bauer continued. "DOJ took possession of materials it deemed within the scope of its inquiry, including six items consisting of documents with classification markings and surrounding materials, some of which were from the President's service in the Senate and some of which were from his tenure as Vice President. DOJ also took for further review personally handwritten notes from the vice-presidential years."

The search lasted roughly 13 hours, Bauer said, and covered working, living and storage spaces in the home. Representatives from Biden's personal legal team and the White House counsel's office were there while Justice Department officials conducted the search.