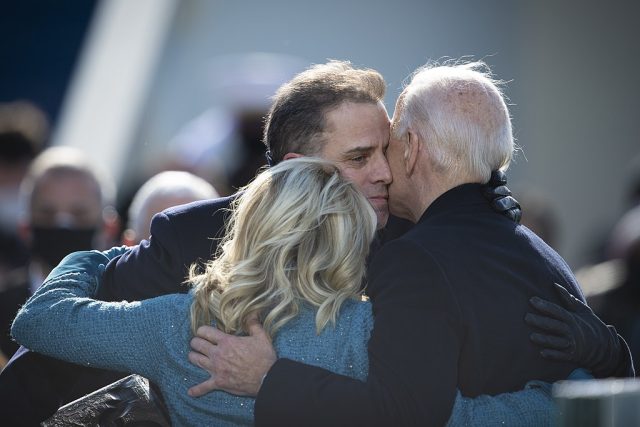 The Department of Treasury has finally agreed to hand over suspicious activity reports (SARs) related to Hunter Biden's foreign business deals to the House Oversight Committee.
Committee Chairman Rep. James Comer (R-Ky.) initially requested information about the Biden family and their associates' business transactions flagged by U.S. banks in January.
Under federal law, when banks suspect suspicious overseas activity by an account holder, it submits a "suspicious activity report" or "SAR" to the Treasury Department. 
However, the Department's delay in responding to the requests triggered an investigation into the matter and prompted Comer to hold a March 10 hearing to examine the Treasury Department's sudden refusal.(RELATED: Why Did Treasury Cover Up Suspicious Activity By Biden Family? Congress Is Now Investigating)
"Biden's Treasury Department continues to make excuses for its failure to provide the suspicious activity reports that are critical to our investigation of the Biden family's business schemes," said Comer in a statement last week.
On Tuesday, the Kentucky Congressman announced the sudden change according to Fox News.
"After two months of dragging their feet, the Treasury Department is finally providing us with access to the suspicious activity reports for the Biden family and their associates' business transactions," Comer said. "It should never have taken us threatening to hold a hearing and conduct a transcribed interview with an official under the penalty of perjury for Treasury to finally accommodate part of our request."
Hunter Biden is faced federal investigations into his finances since 2018.
Earlier this month, Comer called on Treasury Department official Jonathan Davidson, who serves as assistant secretary for legislative affairs, to appear for a transcribed interview "to explain why "the agency had not provided the requested information."
However, Davidson's interview has now been postponed because the Department has fulfilled the request.
Earlier this month, Davidson responded to Comer's letter explaining the Treasury Department's process to ensure that the "law enforcement sensitive material is identified and handled appropriately," but said the process was "well underway" to respond to the committee's request.
"The Department has been working to complete all necessary review, including consultation with law enforcement agencies," Davidson wrote in the March 3 letter to Comer. "These processes ensure that sensitive material extraneous to the Committee's inquiry is not inadvertently disclosed and that law enforcement sensitive material is identified and handled appropriately."
Davidson explained that "review of law enforcement sensitive materials is a standard aspect of the process of providing Congress with access to BSA-protected information."
"All of these processes—which are designed to ensure proper protection of potential or ongoing investigations and other law enforcement interests—are already well underway for your request, but they take time," Davidson wrote. "The Department is working to complete these processes as soon as possible and consistent with the timeframes for processing similar requests in the past, including requests received from committee chairs in the prior Congress that took months to complete."