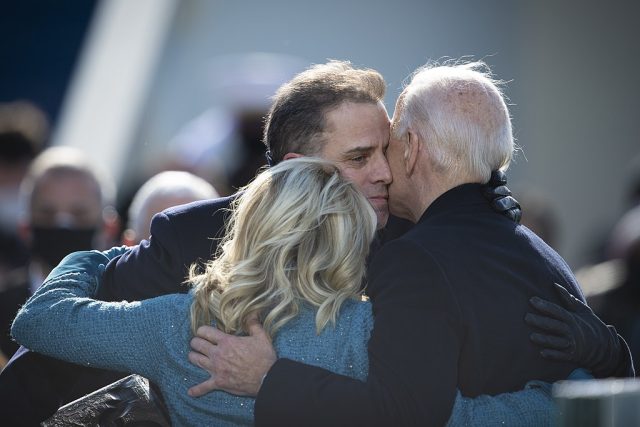 Hunter Biden is requesting to subpoena former President Donald Trump and three other senior Justice Department officials claiming the investigation against him is politically motivated.
According to The Hill, Biden, who faces three federal gun charges, is demanding Trump and former Attorney General Bill Barr turn over communications and documents concerning the president's son or his criminal investigation.
The demands for documents, which must be approved by a judge, also extend to former Deputy Attorney General Richard Donoghue and former acting Attorney General Jeffrey Rosen.

"Mr. Biden seeks specific information from three former DOJ officials and the former President that goes to the heart of his defense that this is, possibly, a vindictive or selective prosecution arising from an unrelenting pressure campaign beginning in the last administration, in violation of Mr. Biden's Fifth Amendment rights under the Constitution," Biden's attorneys wrote in court filings.
Prosecutors indicted the President's son on gun charges earlier this year after a sweetheart plea deal fell through.
Biden is accused of unlawfully possessing a firearm while addicted to a controlled substance and failing to disclose drug use when seeking to buy a weapon. Biden pleaded not guilty.
Last week, House Oversight and Accountability Committee Chair James Comer (R-Ky.) and House Ways and Means Chair Jason Smith (R-Mo.) subpoenaed Hunter along with other members of the Biden family as part of its corruption probe.
"It is clear no measure of charges against Mr. Biden will ever be enough to appease Chairmen Comer and Smith and their MAGA allies," Biden's attorneys wrote in their motion.

"As anyone can readily tell, it is not just pressure from within the Trump-era Executive Branch that is the problem; it is also incessant, unrelenting outside interference from congressional Republicans and their allies in the prosecutorial process, which is supposed to be independent and free from political interference," the motion continued. "Undoubtedly, the current political climate has jeopardized that longstanding and fundamental American principle."