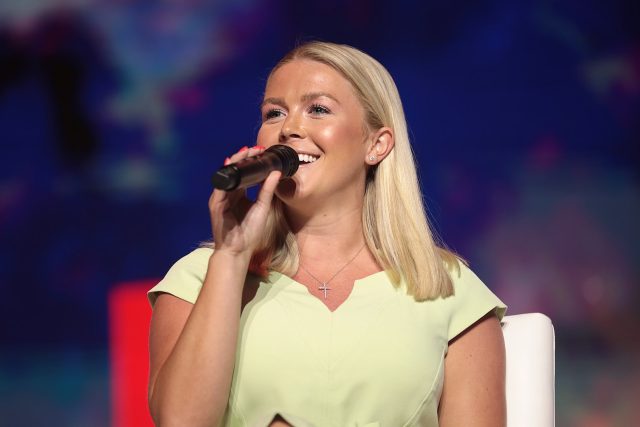 An "ultra MAGA" 25-year-old former Trump White House staffer made history Tuesday night. Karoline Leavitt – who celebrated her 25th birthday last month, becoming eligible to hold a seat in the U.S. House of Representatives- won her primary for New Hampshire's First Congressional District Seat, setting up a November showdown with incumbent Democrat Congressman Chis Pappas.
Leavitt emerged victorious from a hotly contested primary after garnering 35 percent to the 25 percent won by her top opponent Matt Mowers.
She beat out a number of candidates including Mowers, a fellow Trump Admin alumnus and the 2020 GOP nominee for the NH-01 House seat. Mowers worked in the State Department as a top aide to Secretary Mike Pompeo who also endorsed him in the primary, as did the 45th President himself.
Although she worked in the Trump White House and was endorsed by a number of Trump's closest allies – including her old boss and former White House Press Secretary Kaleigh McEnany – the former President for some reason declined to endorse her in the primary and endorsed Mowers instead. He has however celebrated her win via a statement posted on his social media platform, Truth Social.
Another interesting moment in the primary was the division of endorsements from Elise Stefanik – House Republican Conference Chairwoman and House Minority Leader Kevin McCarthy. Stefanik opted to endorse Leavitt, who served as her Communications Director following her stint in the White House.
House Minority Leader McCarthy sided with Mowers.
Despite the attacks she endured from the DC swamp Democrats and establishment Republicans, Leavitt won. She also garnered the support of the Freedom Caucus' Jim Jordan of Ohio and Texas Senator Ted Cruz.
Leavitt also campaigned with a pair of conservative members of the GOP freshman class. Byron Donalds of Florida and Lauren Boebert of Colorado joined Leavitt's campaign on the eve of the primary to express their support for the young conservative dynamo.
Now Leavitt will set her mind to tackling the task of flipping a seat that the Cook Political Report ranks as having a partisan voter index (PVI) of EVEN and an overall rating of "toss-up."
While reporting on the results of last night's race, Cook Political Report's Dave Wasserman attacked Leavitt as "unv****ed America First" and "Pro-MAGA". Despite his criticism, he still ranks the seat as a "toss-up" – a key indicator that Democrats should be more than concerned about this Republican candidate's rising success.
As long as Pappas continues sipping the Biden-Pelosi Kool-Aid and helping drive America off a fiscal cliff – Leavitt's got one heck of a fighting chance.
Aside from the NH-01 race, the Granite State played host to a couple of other key races last night, including a five-way Republican primary for the Senate seat.
New Hampshire is a key swing state and enjoys an elevated political status due to it being the host of the "First In The Nation" primaries in Presidential election years.
The MAGA wave in the state wasn't just limited to Leavitt. Pro-Trump Senate candidate Don Bolduc also won his hotly contested primary.
New Hampshire's Republican Governor Chris Sununu — a moderate who enjoys a fair amount of popularity for a Republican governing a blue state and prevailed against three challengers in his own primary last night — stepped into the race with a last-minute endorsement of Charles (Chuck) Morse, the President of the New Hampshire Senate.
Still, that wasn't enough to swing the race in Morse's favor. WMUR reported earlier this month that "Don Bolduc, a retired Army general, has been leading in the polls for the Republican nomination. Morse is making the case to voters that he has the experience for the job." That polling was done before the debate last month and Sununu's endorsement but seems to have stood true.
Bolduc has set himself up for a matchup with vulnerable incumbent Democrat Senator Maggie Hassan.
Our friends over at Townhall are reporting RNC Chairwoman Ronna McDaniel's statement in the race:
"Extreme Democrats like Maggie Hassan and [Representative] Chris Pappas have failed Granite Staters time and again by voting in lockstep with Biden's failed agenda of high taxes, open borders, and historic inflation. Our data-driven ground game is ready to turn out the vote, and New Hampshire is ready to re-elect Governor Sununu and finally send commonsense Republican leadership to Washington."