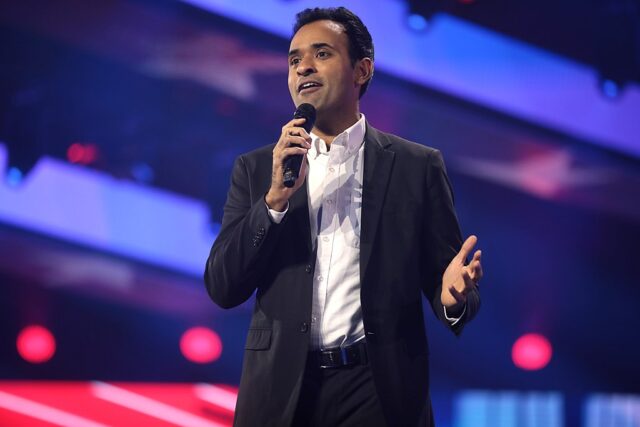 Republicans, even his direct opponents, are still loyal to Donald Trump – despite the building legal woes.
During a Tuesday press conference at the Wilkie D. Ferguson Jr. U.S. Courthouse in Miami, Florida Vivek Ramaswamy said if he is elected president, he will pardon Trump for his federal charges.
While speaking to a crowd the Ohio businessman and tech mogul challenged his Republican counterparts to make the same pledge to pardon the former President if elected.
"The use of police force by a sitting U.S. President against his chief political rival in the midst of a presidential election sets a dangerous precedent in our country," Ramaswamy said in a press release.
"No one is above the law: the U.S. President shouldn't be able to use the federal police to arrest his opponents," he continued.
"No one should be below the law either, yet there are now two standards of justice depending on your political viewpoints," Ramaswamy added. "That's the single greatest threat to our constitutional republic today."
"If President Trump is prosecuted in a manner that effectively prevents him from running, this will permanently damage public trust in our electoral process and our justice system," the letter reads.
"Whoever among us is elected, our job of reuniting the nation will become daunting – if not impossible," Ramaswamy wrote.
Trump is set to be arraigned Tuesday after a federal grand jury indicted him last week on 37 charges related to his retention of sensitive documents.
In addition to pledging to pardon Trump, Ramaswamy also filed a Freedom of Information Act (FOIA) request this week seeking communication between the White House and the Justice Department concerning the second indictment of Trump.
Ramaswamy said he filed the request "to demand *exactly* what the White House Communicated to [Attorney General] Merrick Garland & [Special Counsel] Jack Smith about the unprecedented indictment of a former U.S. President & Biden's disfavored opponent in this election."
Other Republican candidates have yet to respond to Ramaswamy's challenge but former United Nations ambassador Nikki Haley signaled she's "inclined" to sign on."
"I think we all need to let this trial play out. We need to see exactly what happens, when you look at a pardon, the issue is less about guilt and more about what's good for the country. And I think it would be terrible for the country to have a former president in prison for years because of a documents case," Haley said on "The Clay Travis & Buck Sexton Show" when asked if she'd commit to pardoning Trump if elected.
"That's something you'd see in a Third World country. I saw that at the United Nations, so I would be inclined in favor of a pardon. But I think it's really pretty mature at this point when he's not even been convicted of anything," she added.