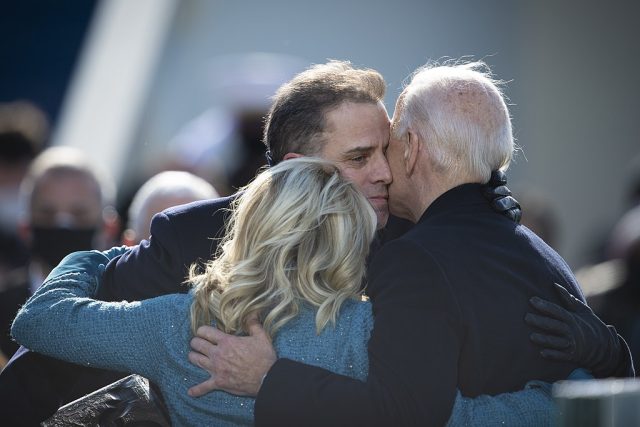 ANALYSIS – Despite the still ongoing media-Big Tech-Democrat Party c*llusion to ignore, minimize or denigrate any calls to investigate H*nter B*den's foreign business deals, Americans are increasingly supportive of the idea.
This is great news for the incoming Republican House Majority which plans to do just that.
The latest Rasmussen Reports survey found that a whopping 62% of Americans want H*nter Bi*en's business dealings investigated, especially those with C*mmunist China.
Similarly, about 63% told Rasmussen that the H*nter B*den l*ptop computer is an important story.
Of course, out of this nearly 2/3 majority, Republicans and independent voters are the most eager for a thorough H*nter probe, and Democrats less so.
But the numbers should still be highly concerning to the White House and its apologists.
The Washington Examiner noted that:
…a majority joined Republicans in raising questions about H*nter B*den's computer files and advice the president gave his son prior to scoring big money payoffs from his overseas businesses

The survey found the public is gobbling up stories in the media about H*nter B**en and that they are especially interested in those about his computer.

Conservative media covered the computer stories heavily, but only recently have the liberal media joined in drawing attention to the controversy.
The Examiner added:
Frustrated with the liberal media's slow wake-up to the computer and H*nter B*den controversy, the new House GOP has promised to make a big deal out of probing the president's son, and the poll of likely voters showed support for that move.
However, let's be clear. This isn't just an investigation into the President's w*yward son. It is a much-needed investigation into the entire B*den family enr*ching themselves un*thically, if not ill*gally.
And the real focus is on the 'B*g Guy' – J*e Bid*n. 
As Spectrum News reported right before the GOP won control of the House:
GOP members of the Oversight and Reform Committee held a news conference Thursday in which they alleged, among other things, that Pre*ident B*den "personally participated in meetings and phone calls" regarding his s*n's business exploits and that there was personal business conducted on Air Force Two while he was vice president. 

Rep. James Comer, R-Ky., who is poised to chair the panel beginning in January, called the president "chairman of the board" and a "partner with access to an office."

Republicans, who released an interim report Thursday, said they identified more than 50 countries where the B*den family, often led by H*nter B*den, sought business transactions.

"To be clear, J*e Biden is the b*g g*y," Comer said. "This evidence raises troubling questions about whether President Biden is a national security risk and about whether he is compromised by foreign governments."

Comer made it clear the investigation will focus on the  pr*sident, not his s*n.

"We're not trying to prove H*nter B*den is a b*d actor," he said. "He is. If anybody wants to disagree with that, there's nothing we have to talk about. Our investigation is about J*e B*den. And we already have e*idence that would point that J*e B*den was inv*lved with Hu*ter Bi*en on this."
…
Opinions expressed by contributors do not necessarily reflect the views of Great America News Desk.