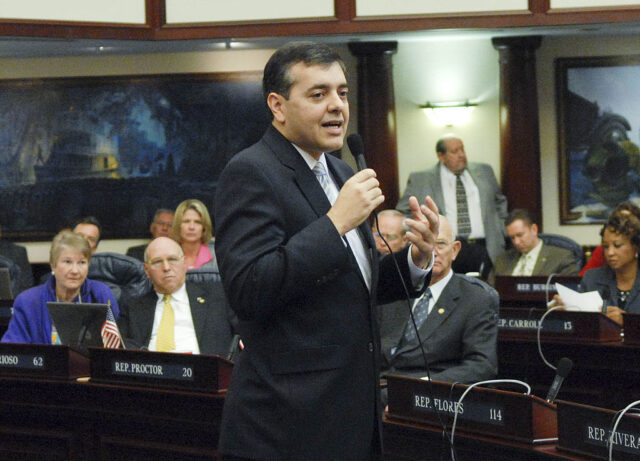 ANALYSIS – No surprise to me. I ran against this disgrace in 2010 in the GOP primary. I highlighted his obscene corruption, but much of the GOP establishment backed him to the hilt.
In the 'you can't make this up' category, the discredited GOP ex-congressman David Rivera has been arrested by federal officials for conspiring to lobby on behalf of America's Latin American nemesis, socialist Venezuela.
This, despite being the GOP's South Florida poster boy for 'anti-communism,' an image he assiduously cultivated for years to curry favor with the Miami conservative base and deflect from his myriad failings.
When I ran against Rivera in the South Florida 2010 GOP congressional primary as a Tea Party outsider, my motto was 'the Marine vs. the Machine' due to Rivera's lifelong ties to the GOP establishment.
During that race, Rivera, a termed-out state representative, got a massive number of Republican congressional leaders to back him, even though I was beating the drum about his corruption and lack of integrity.
Rivera won that primary, in part because a politically unknown woman, and possibly Democrat-linked spoiler, named Marili Cancio jumped into the race and siphoned off about 12% of the GOP voters I would have gotten.
Rivera then went on to win the congressional seat.
However, his corruption finally caught up with him and he lost his reelection to an equally distasteful Democrat – Joe Garcia.
That was the first time the GOP had lost that seat in 30 years, and Rivera became radioactive to most in the GOP afterward.
Thankfully, Democrat Joe only lasted one term himself.
But back to Rivera's arrest.
CNBC reports that Rivera:
A former Miami congressman who signed a $50 million consulting contract with Venezuela's socialist government was arrested Monday on charges of money laundering and representing a foreign government without registering.
Scandals have marred Rivera since he represented parts of the Miami metro area in Congress a decade ago.
The eight-count indictment against Rivera and lobbyist Esther Nuhfer chronicles the nefarious duo's alleged dealings with Venezuela to help revive its state-run oil company.
The investigation stretches back to the start of the Trump administration when Rivera reportedly arranged meetings with an unnamed senator and a congressman as part of a conspiracy to ease tensions between the United States and South America's socialist holdout. The unsavory politician ultimately hoped to lift sanctions on a regime universally reviled in South Florida.
Rivera began his efforts after signing a $50 million contract. Per Bloomberg, the indictment lays out the reputed method by which he unlawfully enriched himself:
The Venezuelan Minister of Foreign Affairs at the time, Delcy Rodriguez, directed executives at CITGO, a Texas-based unit of PDVSA, to draw up a consulting contract with Rivera's company, according to the indictment.

The contract was between Interamerican and PDV USA, which prosecutors allege was used by CITGO to facilitate "special projects" ordered by executives of the state-owned parent company.

Additional charges against Rivera and Nuhfer include conspiracy to commit offense against the US, conspiracy to commit money laundering and engaging in transactions in criminally deprived property. Nuhfer couldn't immediately be located for comment.
At one point, note prosecutors, Rivera received a $5 million payment from PDVSA, Venezuela's state-run oil company and personal piggy bank for its corrupt socialist leaders, in an account at Gazprom Bank in Russia.
Thankfully Rivera's illegal pro-Venezuela outreach effort ultimately failed, as Trump in 2019 recognized opposition lawmaker Juan Guaido as Venezuela's legitimate leader and imposed stiff oil sanctions on the OPEC nation in a bid to unseat Maduro.
The U.S. Marshals Service said Rivera bailed out of jail Monday afternoon after making an initial appearance in Atlanta federal court.
Even more concerning, though, the Associated Press' initial report detailed how Rivera attempted to arrange a meeting between a prominent female Trump campaign adviser-turned-White House "counselor" and a pro-Maduro businessman on his jet in Miami on June 27, 2017.
Kellyanne Conaway was in Miami that day to headline a Republican Party fundraiser. At the time, she served the Trump White House as the Senior Counselor to the President.
This wouldn't surprise me either, as Conway was very close to Rivera, and may have been behind efforts to keep me from entering the Trump administration during his term, at the behest of Rivera.
Trump's hiring of Conway, who I admired and knew casually from years in conservative circles, was one of the reasons I believed Trump could win and helped convince me to back him.
Sadly, it seems Conway's ties to slimy Rivera may have slimed her too.
All this should remind us all to be very careful when blindly backing politicians, no matter who they are. 
Opinions expressed by contributors are their own and do not necessarily reflect the views of Great America News Desk.