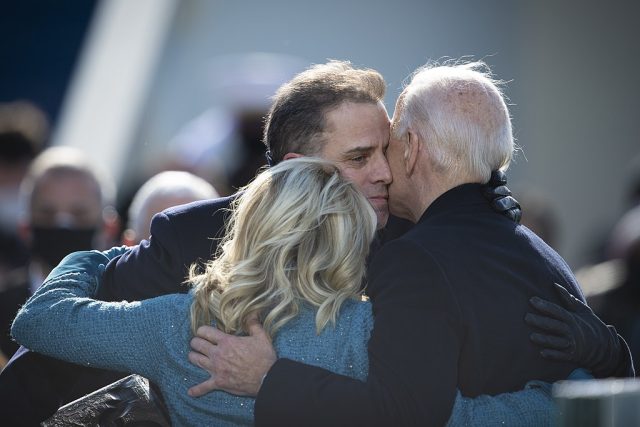 ANALYSIS – Federal prosecutors are seeking a grand jury indictment of Joe Biden's son, Hunter. And while the investigation is a fresh setback to his father's 2024 re-election bid, some believe 'the fix could still be in.'
It is unclear what charges the U.S. Attorney for Delaware David Weiss plans to file against Hunter.
But, according to court papers, the newly named 'special counsel' said he expects an indictment before September 29, which is just before the statute of limitations runs out on Hunter's felony gun charge.
Of course, the time has almost run out because Weiss took years to complete the hyper simple investigation — and is still stalling.
And Weiss didn't have to announce the grand jury indictment is coming. He could have just done it instead.

The court filing is related to a felony gun charge alleging that Hunter Biden illegally possessed a firearm in October 2018 while he was a drug user. He is also under federal investigation for his business dealings and failing to pay taxes on tens of millions of dollars earned mostly from shady foreign sources in 2017 and 2018.

In June, Hunter Biden agreed to a sweetheart plea deal where he would plead guilty to misdemeanor tax offences, and separately get a 'diversion' program for the gun charge. The plea agreement fell apart after U.S. District Judge Maryellen Noreika, appointed by President Donald Trump, correctly questioned it during a court appearance in July.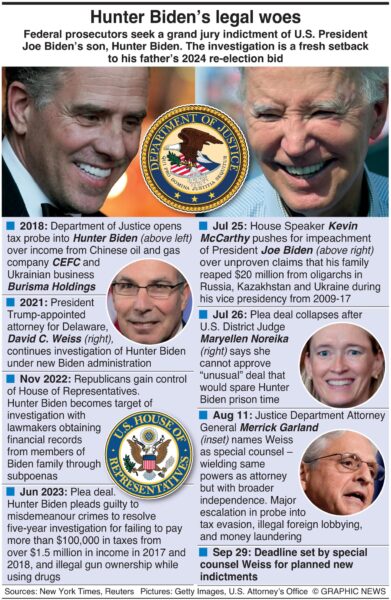 It turned out Hunter Biden believed the deal would give him blanket immunity from any future prosecution. Federal prosecutors were forced to admit that wasn't really the case.
Weiss didn't have the authority to give global blanket immunity then. But as 'special counsel' appointed by Joe Biden, Weiss does now.
Due to foot dragging and failures to cooperate by the FBI and other federal agencies, congressional Republicans are considering launching an impeachment inquiry against Joe Biden, alleging that he had played a role in his son's shady foreign business affairs and influence peddling scheme.
The inquiry would give the Congress full authority to force the reluctant, partisan bureaucrats to pony up all records requested.

In July, the House of Representatives oversight committee said bank records showed Joe Biden's family and associates received $20 million from oligarchs in Russia, Kazakhstan and Ukraine during his vice presidency from 2009-2017.

"If you look at all the information we have been able to gather so far, it is a natural step forward that you would have to go to an impeachment inquiry," House Speaker Kevin McCarthy recently said on Fox News.
That's why the actions of Weiss are concerning. Many legal experts, and Republican opponents, see Weiss using the gun charge as leverage to get Hunter to renegotiate another, similarly weak, plea deal.
As the New York Post reported:
David Weinstein, a former federal prosecutor, told The Post that an indictment on that gun charge is "not that significant" and could be merely "a placeholder" — meaning Weiss could still potentially bring a case against Biden related to any potential illegal foreign dealings or felony tax charges.
"It's holding in place the ability to use his leverage — a felony gun charge — in negotiations with Hunter Biden to resolve his global criminal exposure," Weinstein said.
Cornell Law Professor Robert Hockett told The Post he agreed that an indictment on the gun charge could be used to bring about a larger settlement to shut all this down.
Weinstein added that he doesn't believe Weiss "is going to end up playing hardball" in potential negotiations with Hunter's legal team.
But Hockett said that Weiss would be cautious to avoid the appearance of going easy on the president's son, especially given the barrage of criticism Weiss received on the prior plea deal.
Still, the GOP-led Congress should move ahead forcefully on an impeachment inquiry. It may be the only way to finally get to the truth about the Bidens' shady deals.
Opinions expressed by contributors do not necessarily reflect the views of Great America News Desk.