ANALYSIS – While the establishment media has tried to spin France's recent wave of rioting as a response to unfair or racist French policing, like the Black Lives Matter (BLM) riots of 2020 in the United States, they really aren't. 
For both, that is only the pretext. But they are very similar in other ways.
As I wrote before, both were about much more. In the case of BLM, it was part of a bigger far-left agenda.
In the case of France, it is an uprising of racial, cultural and religious resentment with Islamist overtones.
Both also caused substantial physical damage ($1-2 billion) and injured many hundreds of police.
The damages and injuries to police from the BLM riots across multiple cities in the U.S. were larger and spread over a few months. 
In France, the first protests occurred in Nanterre, but then spread to other towns and cities, including Paris, Marseille, Lyon, Toulouse, Strasbourg and Lille.
And in France, they only lasted about a week. France is also smaller in terms of population and its economy. So, overall, the impact was greater, and impossible to downplay as it was in the United States.
The response to the rioting though has been very different in each country.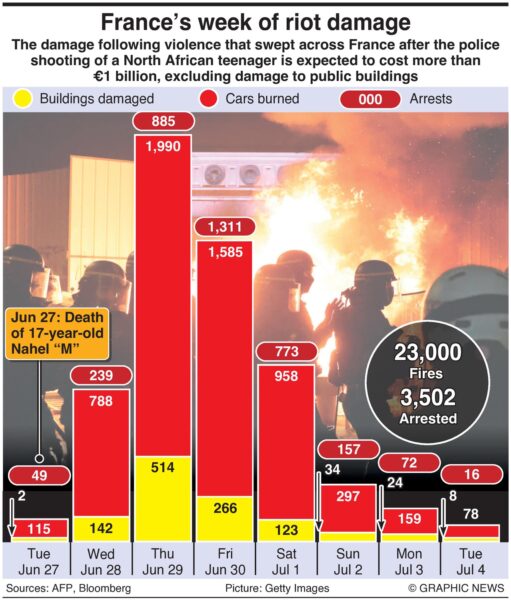 The damage following a week of violence in France is expected to cost more than $1.1 billion, excluding damage to public buildings.
French Finance Minister Bruno Le Maire has promised support as thousands of insurance claims pour in. Insurers have received 5,900-plus claims worth some $305 million, according to the chair of the insurance industry lobby group 'France Assureurs.'

Rioters lit an estimated 23,000 fires and damaged 273 buildings belonging to the security forces, along with 168 schools and 105 mayor's offices. In total, more than 1,100 buildings and 5,850 vehicles have been damaged or destroyed.
More than 800 French law enforcement officers have been injured.

According to Fortune, "The videos of the riots that circulated around the world hurt the image of France," Geoffroy Roux de Bézieux, the outgoing head of the French employers' lobby Medef, told Le Parisien newspaper.
"It's always difficult to say if the impact will be long lasting, but there will certainly be a drop in reservations this summer."
France's Interior updated senators on the destruction carried out by primarily teenage mobs in 'multi-ethnic' areas of French cities. He said about 90 per cent of the 3,502 people arrested during the riots were French nationals.
That doesn't change the racial or demographic facts that most of the rioters were young Muslims of Arab and North African descent. They were born in France as part of the most recent immigration wave.
The average age of the French rioters was 17.
"What's happening there is the consequence of a failure to integrate the country's Muslim immigrant population," Alan Mendoza, co-founder and executive director of the Henry Jackson Society, told Fox News Digital.
President Macron sparked controversy on Wednesday by suggesting social media could be "cut off" if "things get out of control," according to media reports.

Macron singled out platforms like Snapchat, TikTok and encrypted messenger Telegram for their role in helping organize and spread images of the violence.
Fox News reported:
Macron has provided a mixed response to the crisis, initially describing the shooting as "inexplicable" and "unforgivable" but then decrying the protests and blaming everything from social media to video games for the increasing violence.
Macron argued that social media platforms, including TikTok, Snapchat and others, helped fuel the riots, especially after the personal information of the officer who shot Nahel ended up circulating on the platforms. He said his government would work with social media sites to take down "the most sensitive content" and identify users who "call for disorder or exacerbate the violence." Macron also denied there was systemic racism within the country's law enforcement services.
Meanwhile, as I wrote last August, in a few months in the United States, the BLM riots caused $2 billion in damages and injured 2,000 police officers nationwide. 19 people were killed during just 14 days of BLM rioting – none by police.
The killing of police officers nationwide, though, surged 28% in 2020 during the BLM riots and protests.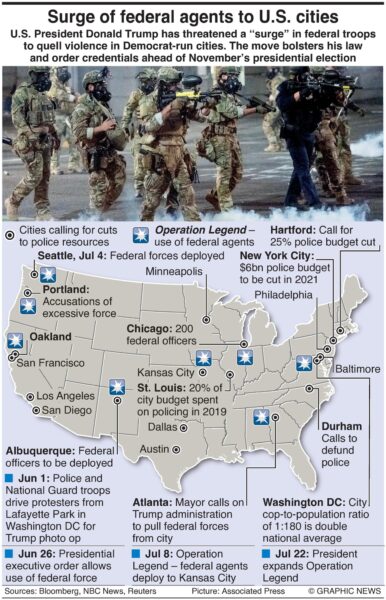 Unlike the muted judicial response to BLM rioters, France's Justice Minister issued an order on Friday that demanded a " strong, firm and systematic" judicial response.
And unlike the United States, where President Donald Trump was attacked and vilified for trying to send federal officers to quell the violence – in France, Macron eventually deployed 45,000 officers and armored vehicles to control the riots.
Opinions expressed by contributors do not necessarily reflect the views of Great America News Desk.