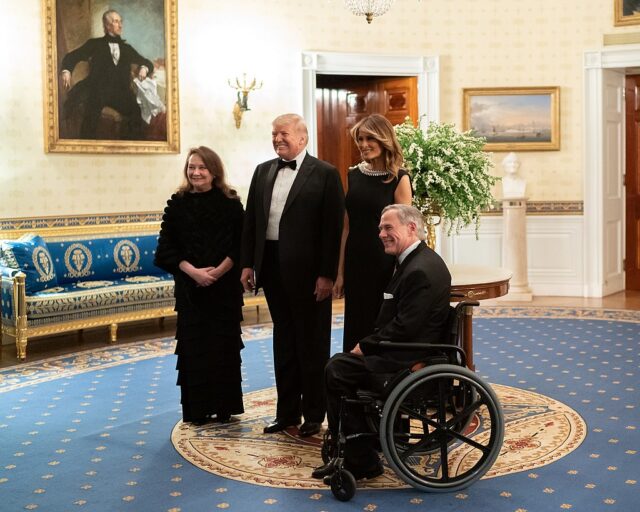 ANALYSIS – The Biden border crisis just gets worse every day, with no help at all from the White House.
And now that a federal court has invalidated Trump's Title 42 C*VID regulation forcing would-be asylum seekers to remain in Mexico, expect a massive new illegal migrant surge.
Much of that surge and chaos is seen along the border with Texas which takes the brunt of the migrant onslaught.
In response, Republican Texas Gov. Greg Abbott announced that he is invoking the U.S. Constitution's invasion clause and taking "unprecedented measures" to repel a "border invasion."
Abbott also sent out a press release and a letter to county officials along the border.
Abbott's declaration comes one week after he won a third four-year term as governor. Former Trump administration officials had been urging the governors of Arizona and Texas to declare an "invasion" to justify more aggressive measures to stem the illegal migrant tide.
Infuriating his partisan critics and open border advocates, the Governor can expect severe legal pushback.
The question is – can he win?
As the American Bar Association Journal notes:
The invasion clause is in Article 1, Section 10 of the Constitution.
It provides: "No state shall, without the consent of Congress, lay any duty of tonnage, keep troops or ships of war in time of peace, enter into any agreement or compact with another state or with a foreign power or engage in war, unless actually invaded, or in such imminent danger as will not admit of delay."
Abbott said he will deploy the National Guard to "repel and turn back" immigrants trying to enter the country illegally. He will also deploy the Texas Department of Public Safety to arrest and return to the border immigrants who came into the country illegally.
Abbott also plans to build a border wall in multiple counties, deploy gun boats, enter into a compact with other states to secure the border, and "enter into agreements with foreign powers to enhance border security."
Abbott first authorized the National Guard and Texas police to act in July, directing them to return immigrants to ports of entry. He also referenced the invasion clause at the time.
However, Abbott has yet to issue a formal invasion declaration or official order.
His office has not published such a declaration through an official news release or on the governor's website, which means he has not yet gone much beyond his actions and declarations in July.
National security expert and Navy JAG Jonathan Hullihan told The Center Square that if Abbott had invoked his constitutional authority on Tuesday, "he would have done so in an official document, not from a personal Twitter account."
Hence "No document, no order."
And critics question its legality. The ABA notes:
Nunn said Abbott's actions were actually "a thinly veiled effort to take the reins on U.S. immigration policy." But that would also be unconstitutional under U.S. Supreme Court precedent holding that immigration policy is "unquestionably" and "exclusively" a federal power, Nunn said.
"For all these reasons, the Biden administration would likely succeed in court if it sued to stop Abbott from carrying out his plans," Nunn concluded.
But others see this as a well-played political move putting Team Biden in a position it can't win.
"We're literally talking about state officials doing the same exact thing that federal officials do with Title 42," said Ken Cuccinelli, a senior fellow at the conservative nonprofit organization Center for Renewing America.
And as the Washington Examiner reports:
"He's [Abbott] run Operation Lone Star and kept your National Guard up and running for a show. He knows it doesn't do anything," said Cuccinelli, adding that the state could win a battle in federal court.
"If you're the federal government and you sue Texas over it … they have to prove there is not an invasion, and they have the burden of proof because they're the plaintiff in the case. Good luck proving that today with the state of the border. I don't think it could be done."
Opinions expressed by contributors do not necessarily reflect the views of Great America News Desk.