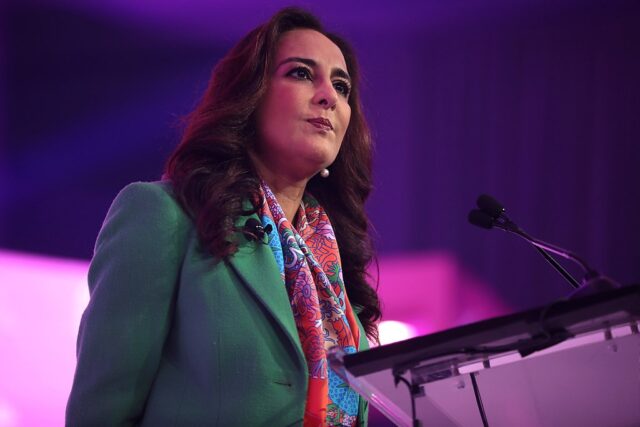 A powerful group of Republican donors is calling for a change in leadership at the Republican National Committee (RNC).
On Monday, more than two dozen Republicans wrote in a letter stating their support for former Trump attorney Harmeet Dhillon's challenge to current RNC chair Ronna McDaniel.
Several of the individuals listed in the letter have donated tens of thousands of dollars to the GOP over the years.
"We cannot continue on our current trajectory as a Republican Party," the letter states. "We must change, in order to fulfill our promise to Republican voters to win elections."
The donors warned the party "is on the verge of permanent irrelevance if we fail to come together to correct course."
"As a nationally-recognized constitutional attorney and activist within the conservative movement for several decades, Harmeet has fought on behalf of Republican Party committees, candidates, and GOP interests, both with the party's support and beyond it. She has served as a county party committee chairman, run for public office, fought for conservative causes at the Supreme Court, and currently leads the Republican National Lawyers Association at a time when election integrity experience is at a premium as a year-round, not seasonal, mandate. Harmeet is also a successful business owner, and as a nonprofit founder and CEO, understands the ethical duties inherent in raising and spending donor funds."
McDaniel has served as the RNC's chair since 2017, however, less-than-desirable midterm wins have caused some to question her leadership.
Other key Republicans have signaled interest in new leadership atop the national party organization.
According to The Hill, the Alabama Republican Party has opted to follow the Texas GOP's lead and will not support McDaniel's latest bid to run the RNC.
An endorsement letter circulated last month contained the signatures of 107 RNC members backing her to stay on as chairwoman. It is well more than the 84 members she would need to win reelection.
The party will choose its leader at its winter meetings this month.
This story is breaking. Click refresh for the latest updates.