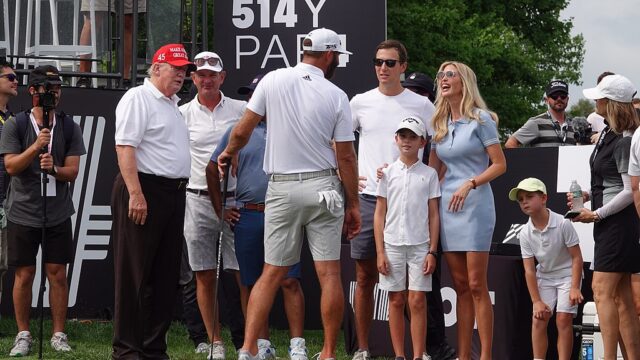 A prominent 9/11 group is speaking out after the PGA Tour announced its merger with Saudi Arabia-backed LIV Golf.
9/11 Families United released a statement slamming the PGA Tour Commissioner Jay Monahan for partnering with the Saudi-backed entity, noting that Saudi operatives played a role in facilitating the September 11, 2001, terrorist attacks.
"PGA Commissioner Jay Monahan co-opted the 9/11 community last year in the PGA's unequivocal agreement that the Saudi LIV project was nothing more than sportswashing of Saudi Arabia's reputation," said 9/11 Families United Chair Terry Strada, whose husband Tom died in the World Trade Center's North Tower. "But now the PGA and Monahan appear to have become just more paid Saudi shills, taking billions of dollars to cleanse the Saudi reputation so that Americans and the world will forget how the Kingdom spent their billions of dollars before 9/11 to fund terrorism, spread their vitriolic hatred of Americans, and finance al Qaeda and the murder of our loved ones."
"Make no mistake – we will never forget, "the statement continued. "Mr. Monahan talked last summer about knowing people who lost loved ones on 9/11, then wondered aloud on national television whether LIV Golfers ever had to apologize for being a member of the PGA Tour. They do now as does he. PGA Tour leaders should be ashamed of their hypocrisy and greed. Our entire 9/11 community has been betrayed by Commissioner Monahan and the PGA as it appears their concern for our loved ones was merely window-dressing in their quest for money – it was never to honor the great game of golf."
The PGA Tour suspended 17 golfers from the tour for participating in LIV Golf, kicking off a year of lawsuits between the two golf entities. Eleven pro golfers sued the PGA for allegedly monopolizing competition. However, all 11 plaintiffs left the lawsuit by May of this year after LIV got involved as a plaintiff in the lawsuit, souring the public image of the golfer's stated principled stand against the PGA.
According to The Daily Wire, the PGA filed a countersuit in September, alleging that LIV golf had unlawfully aided the 17 golfers in violating their contracts with the PGA by offering them separate contracts to play for LIV.
LIV Golf offered major golf stars huge payments to abandon the PGA Tour. Stars like Phil Mickelson, Dustin Johnson, and Bryson DeChambeau, were paid between $100k-$200k without having to win or even qualify for a single tournament.
With the merger, all lawsuits have been dropped.
The PGA Tour commissioner said the deal will push golf into the future and give fans the best experience.
"Going forward, fans can be confident that we will, collectively, deliver on the promise we've always made — to promote competition of the best in professional golf and that we are committed to securing and driving the game's future," Monahan said.
Former President Donald Trump has been a strong proponent of a merger between the two gold powerhouses.
Last year, Trump accurately predicted a merger was "inevitable."
"All of those golfers that remain 'loyal' to the very disloyal PGA, in all of its different forms, will pay a big price when the inevitable MERGER with LIV comes, and you get nothing but a big 'thank you from PGA officials who are making millions of dollars a year," Trump posted on Truth Social in July 2022.
"If you don't take the money now, you will get nothing after the merger takes place and only say how smart the original signees were. Good luck to all and congratulations to really talented Cam Smith on his incredible win!"
Trump, who hosted LIV Golf events at his golf properties, posted a response to the merger on Truth Social.
"Great news from LIV Golf," Trump posted on Truth Social in all caps after the announcement.