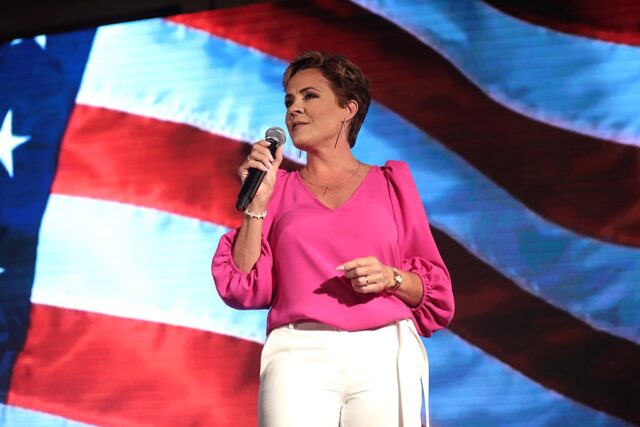 ANALYSIS – The polls are showing a national GOP rally which again points to a potential 'Red Tsunami' in November. 
This means that the GOP will almost certainly be retaking control of the House, and may even narrowly win back the Senate, effectively making Joe Biden even more of a 'lame duck' than he already is.
But as encouraging and critical as this is, what is frightening Democrats the most may be the governor's race in Arizona.
And they should be afraid. Very afraid.
There, 'ultra MAGA' Kari Lake is neck-and-neck in the polls for Governor against Democrat Katie Hobbs.
Many experts have concluded that almost all pollsters undercount conservative Republican voters, often because they have simply 'opted out' of the process until the election.
So, when the polls show races are close, this likely means the Republicans are ahead.
And this means Kari Lake, a smooth and charismatic former local TV news host, and novice politician backed strongly by Donald Trump, could very well win the state's gubernatorial race.
As Dems see it, this means that the 53-year-old Lake, who left journalism and the media in 2021, and has questioned the 2020 election results, could 'threaten Arizona's 2024 election processes.'
They also see her as a potential Trump vice presidential candidate or even a post-Trump presidential candidate.
As Axios reports, key Democrat strategists are clearly panicked by Lake:
David Plouffe, the architect of Barack Obama's 2008 victory, told Axios that Lake looks like a "plausible presidential candidate."
David Axelrod, another key former Obama adviser, offered this assessment of Lake's 20+ years in Arizona local TV before her entrance last year into politics: "If you get a candidate who has the performance skills of a major-market local TV anchor and the philosophy and thinking of Steve Bannon, that's a potent and dangerous combination. … Look at Italy."
…Former senior Hillary Clinton adviser Karen Finney said Lake represents "a more polished version" of MAGA.
Meanwhile, Lake isn't just a MAGA candidate, she has been embraced by the GOP establishment, with all the powerful benefits that this brings.
Axios notes that:
Doug Ducey, Arizona's outgoing GOP governor and chair of the Republican Governors Association, opposed Lake in her primary. But now, he's backing her with great energy.
Lake has also charmed Arizona GOP donors, including members of the state's political establishment…
In private meetings and on calls with donors, RGA officials have made clear they are prepared to spend aggressively to get Lake across the finish line. "Voters have a clear choice and we're confident they'll make Kari Lake their next governor…"
Bottom line:If Lake wins the governorship of Arizona, expect her to be the next big rising MAGA star. She may also be Trump's 2024 VP, and/or even a top contender for 2028 GOP presidential candidate.
"Ultra MAGA" Kari Lake may be the GOP woman to watch in November. 
Opinions expressed by contributors do not necessarily reflect the views of Great America News Desk.