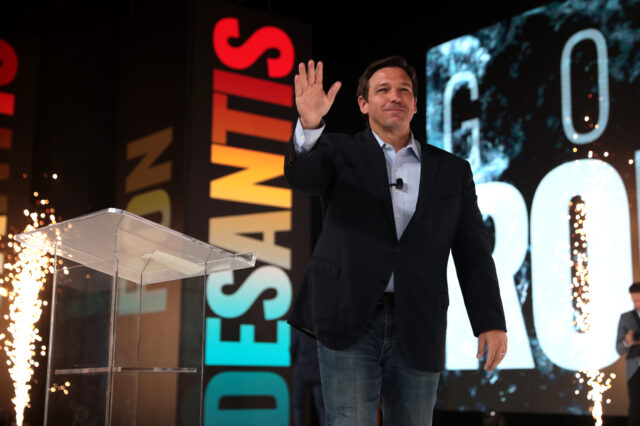 Florida Governor Ron DeSantis is getting involved in the Republican National Committee's (RNC) ongoing leadership battle.
Gov. DeSantis endorsed former Trump campaign adviser and California attorney Harmeet Dhillon in her bid to take the RNC chairmanship away from Ronna McDaniel.
"I think we need to get some new blood in the RNC," DeSantis told Charlie Kirk, the founder of conservative Turning Point USA, on Florida's Voice.
"I like what Harmeet Dhillon has said about getting the RNC out of D.C. Why would you want to have your headquarters in the most Democrat city in America? It's more Democrat than San Francisco is," he continued, referencing a letter that Dhillon sent to RNC members about looking into regional offices while keeping their headquarters in Washington.
The Florida governor referenced the disappointing performance of Republicans in the last three election cycles as the reason for wanting a leadership change at the RNC.
"We've had three substandard election cycles in a row: '18, '20 and '22. And I would say of all three of those, '22 was probably the worst. Given the political environment of a very unpopular president in Biden, huge majorities of the people think the country is going in the wrong direction — that is an environment that's tailor-made to make big gains in the House and the Senate and in state houses all across the country. And yet that didn't happen," DeSantis told Kirk.
DeSantis's comments come just one day before the RNC committee members will hold a secret ballot vote for several positions, including their chairperson. 
In addition to McDaniel and Dhillon, the pro-Trump MyPillow CEO Mike Lindell is also running to lead the party.