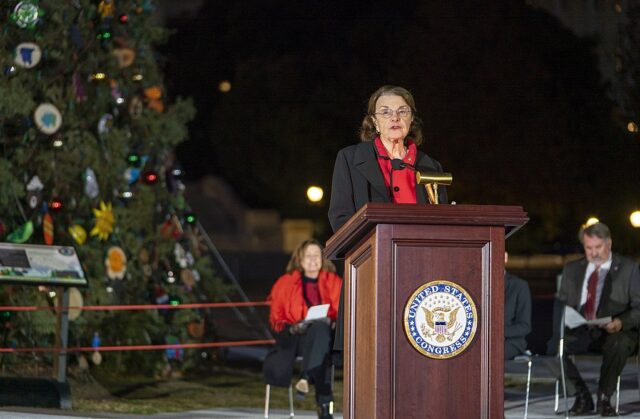 Sen. Marsha Blackburn (R-Tenn.) said on Monday she would not support a move by Senate Democrats to temporarily replace Sen. Dianne Feinstein (D-Calif.) on the Senate Judiciary Committee.
"I will not go along with Chuck Schumer's plan to replace Senator Feinstein on the Judiciary Committee and pack the court with activist judges," Blackburn said on Twitter on Monday. "Joe Biden wants the Senate to rubber stamp his unqualified and controversial judges to radically transform America."
Feinstein, 89, has been away from the Senate while recovering at home from a shingles diagnosis. Last week, two House Democrats called for her to resign from the chamber.  She has missed 60 of the 82 votes taken in the Senate this year.
"It's one thing to take medical leave and come back. It's another thing when you're just not doing the job," Ro Khanna (D-Calif.) said to Fox News on Sunday. "The reality here is there's this sense, 'Well you need to have a deference to these senators who have served so long.' How about a deference to the American people?"
Along with Blackburn, Sen. Tom Cotton (R-Ark.) also signaled that he would not be supportive of the move to replace Feinstein on the panel.
"Republicans should not assist Democrats in confirming Joe Biden's most radical nominees to the courts," Cotton said on Twitter over the weekend.
The move to temporarily replace Feinstein would require Republican support, with 60 votes needed in the full chamber to confirm the replacement. When Feinstein called for the replacement, it was unclear whether GOP lawmakers would be supportive of a move that could help Democrats confirm more judges.
"If this goes on month after month after month, she will need to make a decision with her family and her friends about what the future holds. This isn't just about California. It's also about the nation. We just can't, with a one-vote margin, expect every other person to be there every single time. It could become an issue as the months go by, but I'm taking her at her word that she's going to return," Sen. Amy Klobuchar (D-MN), who serves on the Senate Judiciary Committee, said on ABC's This Week on Sunday.
Feinstein has already said she will not seek another term for her Senate seat, which she was first elected to in 1992. 
If the senior lawmaker does resign, it would mean Gov. Gavin Newsom (D-CA) would get to appoint a replacement until an election is held for the seat.