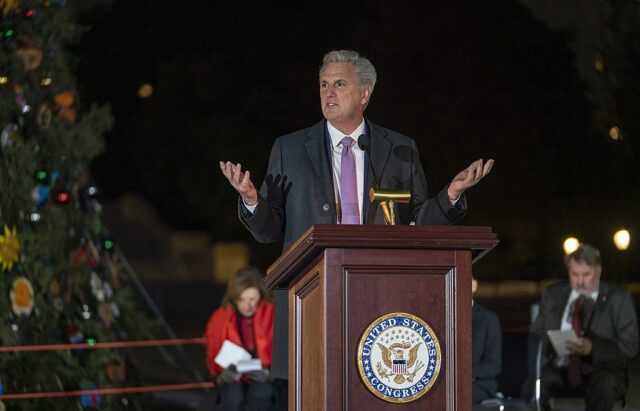 Warning: This article contains graphic language.
House Speaker Kevin McCarthy(R-Calif.) is begging Donald Trump for forgiveness.
McCarthy reportedly called the 2024 White House hopeful on Tuesday to apologize for casting doubt on the strength of Trump's campaign against President Joe Biden.
McCarthy appeared on CNBC Tuesday morning and was asked if Trump could win the election.
"Can he win that election? Yeah, he can," McCarthy said. "The question is, is he the strongest to win the election? I don't know that answer."
"We're told top aides to the former president and allies who know both men quickly traded messages asking, in short: What the fuck? Some called McCarthy a 'moron,' we're told. Others looked to Trump campaign hand Brian Jack, who also advises the speaker and has been a critical bridge between both men, to play mediator as Trump hit the trail in New Hampshire," Politico reported.
On CNN's News Central Wednesday, reporter Lauren Fox called Tuesday a "a day of cleanup" for the House Speaker. She continued:
He held a call, called the former president yesterday to apologize, according to new reporting from our colleagues Melanie Zanona and Kristen Holmes. He told the former president he misspoke, and, of course, he blamed reporters for taking the comments out of context, according to McCarthy, but that isn't where it ended…He had an exclusive interview with Breitbart News, a right-leaning news agency, to try to talk more about why he believed Donald Trump was the strongest candidate to beat Joe Biden. Later, his campaign sent out a fundraising email saying that Donald Trump was stronger than ever.

This just goes to show you that Kevin Mccarthy knows that his right flank is so important for him to hold on to his speakership. He cannot anger people in his conference who are getting behind the former president, who are fervently behind him at all times, no matter what that means in term of defending Donald Trump, and that is why Kevin McCarthy went out of his way yesterday to go ahead and apologize to the former president, and then in subsequent interviews, make it clear that he does believe Donald Trump could be a strong contender to beat Joe Biden in the 2024 presidential election.