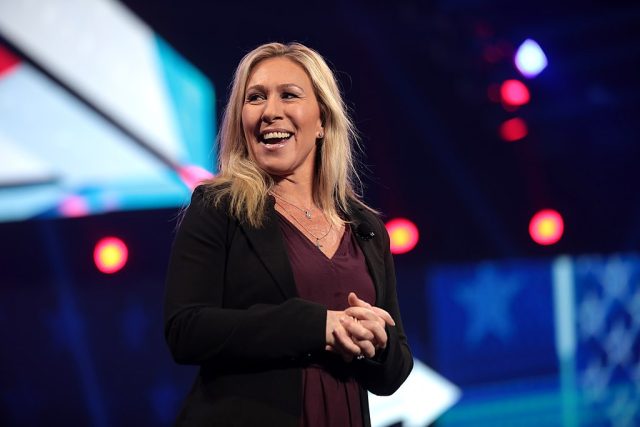 Georgia Congresswoman and loyal Trump supporter Marjorie Taylor Greene claims her home was "swatted" around 1 am Wednesday.
The term swatting refers to a dangerous prank where someone calls in a false threat to authorities, saying they need to get to the intended target's home right away. Police tend to arrive with a heavily armed response or a SWAT team. The dangerous trick has led to fatalities in the past.
"Last night, I was swatted just after 1 am. I can't express enough gratitude to my local law enforcement here in Rome, Floyd County. More details to come," she tweeted.
The conservative firebrand said more details of the incident are forthcoming.
A spokesperson for Rep. Greene told The New York Post that the Congresswoman was the victim of a "political attack" but refrained from disclosing any more information.
"Right now, Congresswoman Greene's safety is our number one concern," a spokesperson for the Congresswoman told The Post. "Late last night, she was a victim of a political attack on her family and home. Whoever who committed this violent crime will face the full extent of the law."
Rep. Greene received an outpouring of support and calls for those who made the call to immediately be held accountable following the incident.
This story has been updated to reflect new information as it has become available.
One day after, Rep. Marjorie Taylor Greene's home was swatted once again, prompting an armed response to her residence.
The National Pulse reports:
"After we cleared the call and went back in service, Rome-Floyd 911 received a call from the suspect, claiming responsibility for the incident and explaining his/her motives," the report stated. "It was a computer generated voice. They explained they were upset about Ms. Greene's stance on 'trans-gender youth's rights,' and stated they were trying to 'swat' her."

The report also stated caller said they are connected to a website, which police stated supports cyberstalking, and gave the police their user name on the site.

"Right now, Congresswoman Greene's safety is our number one concern," Greene's spokesperson Nick Dyer said Wednesday. "Late last night, she was a victim of a political attack on her family and home. Whoever committed this violent crime will face the full extent of the law."