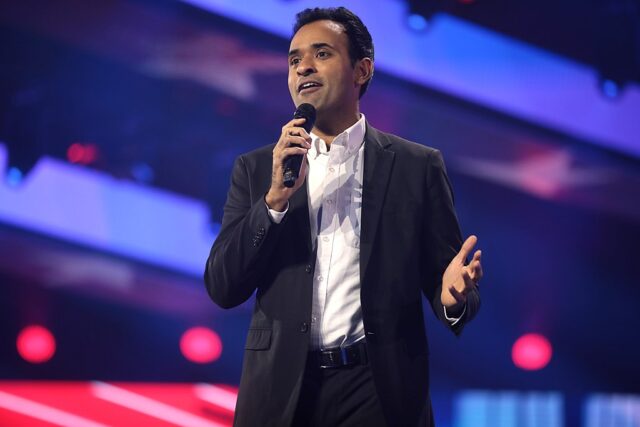 Is this the real reason biotech businessman Vivek Ramaswamy launched a bid for the White House?
A lengthy report from ABC News casts a look into the decision-making behind Ramaswamy's surprising presidential campaign with sources noting the Republican businessman is aiming to knock Florida Governor Ron DeSantis's campaign in an effort to propel Donald Trump forward.
The report noted that Ramaswamy summoned a small group of conservative operatives to discuss "exciting plans" he had for the coming months in early 2023.
Ramaswamy pitched himself as a [presidential] candidate who could make serious waves in the Republican primary at the meeting. When met with some skepticism, Ramaswamy argued that his candidacy could also dissuade Florida Gov. Ron DeSantis from entering the race, according to a source who was on the call. In the lead-up to his announcement, Ramaswamy would tell several other conservative activists that he believed that if he ran, it could stop DeSantis from running or impact his viability as a candidate if he did enter the race, sources said.
The presidential bid reportedly came shortly after a potential podcast partnership with the conservative publication The Daily Wire fell through.
Another Republican aide who advised Ramaswamy early in his campaign told ABC News that there was frustration among staff early on that the candidate was more concerned about getting his campaign podcast — titled "The Vivek Show" — off the ground, rather than strategizing around how to win the party's nomination.

"So why is Vivek running anyway?" Morefield wrote in his column. "It's hard to imagine it's not for one or both of the following reasons: 1) To raise his profile and secure some sort of post in the upcoming administration. 2) To pave the way for a Trump defeat of DeSantis."

When asked for comment on this story, Ramaswamy's senior adviser Tricia McLaughlin told ABC News, referring to DeSantis: "Does one of your sources live in a publicly financed mansion in Tallahassee, Florida?"