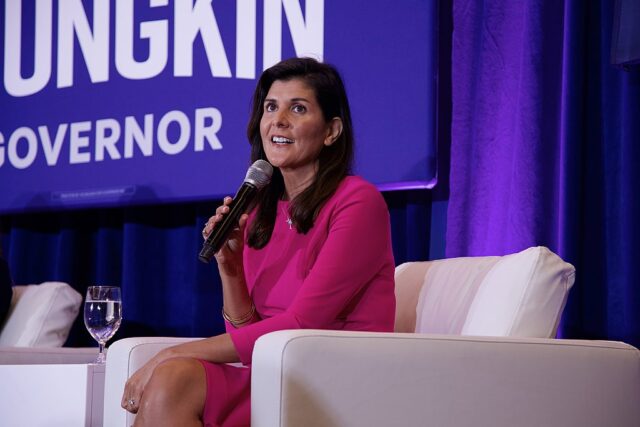 The political network founded by the Koch brothers is endorsing Nikki Haley in the Republican presidential primary race according to a Tuesday memo.
Americans for Prosperity Action's endorsement bolsters Haley's campaign as Republicans get closer to the Iowa Caucuses. Haley is largely seen as the candidate most likely to topple Ron DeSantis for the No. 2 position in the primary field. Trump has so far dominated the primary field despite refusing to participate in any debates.
"In sharp contrast to recent elections that were dominated by the negative baggage of Donald Trump and in which good candidates lost races that should have been won, Nikki Haley, at the top of the ticket, would boost candidates up and down the ballot," reads the memo from Emily Seidel, a senior adviser to Americans for Prosperity Action, who adds that Ms. Haley would win "the key independent and moderate voters that Trump has no chance to win."
The memo goes on to say that the country "is being ripped apart by extremes on both sides," adding: "The moment we face requires a tested leader with the governing judgment and policy experience to pull our nation back from the brink. Nikki Haley is that leader."
The group has been committed to opposing Mr. Trump's return as leader of the Republican Party. In a memo in February, Ms. Seidel, who also serves as the president of Americans for Prosperity, the political network's parent group, wrote: "We need to turn the page on the past. So the best thing for the country would be to have a president in 2025 who represents a new chapter."
In recent months, Haley's popularity has surged among Republicans and political pundits but the endorsement from the super PAC established by David and Charles Koch could prove Haley's campaign the push it needs. It will give her access to a direct-mail operation, field workers to knock on doors and people making phone calls to prospective voters in Iowa and beyond. The group has money to spend on television advertisements, as well.
Americans for Prosperity Action has been among the country's largest spenders on anti-Trump material this year, buying online ads and sending mailers to voters in several states, including Iowa, New Hampshire and South Carolina. All told, the group has spent more than $9 million in independent expenditures opposing Mr. Trump.