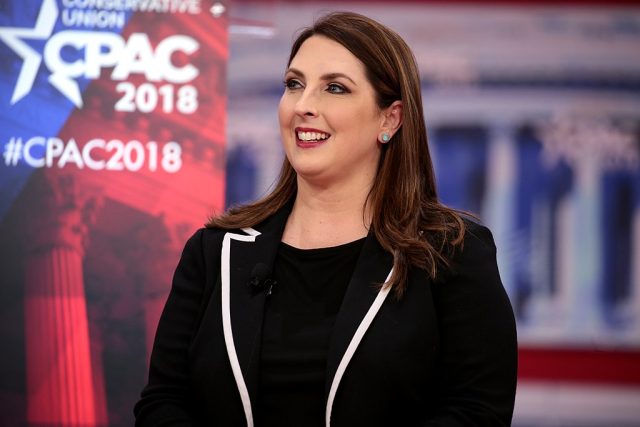 As buzz continues to build around Trump's looming 2024 announcement some Republicans are already trying to burst his bubble.
Despite the obvious excitement surrounding Trump's long-awaited presidential campaign announcement the Republican is already facing hurdles on the path to 2024.
Trump, who is already facing various legal challenges, will be effectively cut off from the Republican National Committee if he declares his candidacy committee chairwoman Ronna McDaniel told The Hill.
Last year, the RNC admitted it was paying for legal fees "that relate to politically motivated legal proceedings waged against President Trump" and in recent months the committee has funded Trump's defense against probes launched by Manhattan District Attorney Cy Vance Jr. (D) and New York Attorney General Letitia James (D).
"We cannot pay legal bills for any candidate that's announced. So these are bills that came from the Letitia James lawsuit that started while he was president," McDaniel said. "It was voted on by our executive committee for our former president, that this was a politically motivated investigation and that's what it's been."

"But we cannot do in kind contributions to any candidate right now. He's the former president being attacked from every which way with lawsuits, and he's certainly raised more under the RNC than we've spent on these bills," she added.
Advisers in Trump's inner circle have indicated the announcement could come as soon as November 14th but some conservatives say it shouldn't come as any shock.
Former New Jersey Gov. Chris Christie (R) said on Sunday that Trump's upcoming announcement doesn't surprise him, according to The Hill.
"Like, why should anybody be surprised," Christie said, adding, "When something happens that you anticipated happening, it doesn't make any difference."

"He's going to run. Everyone always knew he was going to run. He can't miss the attention any more than he does, and he's going to run," the former governor added. "Now we'll see what happens."

However, reports began to swirl on Monday that Trump couls make his annoucenment during tonight's rally in Ohio. Axios reporter Jonathan Swan was the first to report that Trump could move up the announcement date.

"Based calls/texts all morning, Trump/Vance rally in Ohio will be v closely watched by Rs. Speculation has reached a point of absurdity at this point but many Rs of varying degrees of closeness to Trump are anticipating accelerated announcement based on his recent private comments," Swan tweeted.

A source close to the matter told The Washington Examiner that ultimately the decsion is up to Trump and nobody knows exactly when he will share the news.

"There's a lot of back-and-forth right now, no one really knows if it's going to happen tonight or if it's going to happen in a week or so. Trump himself is the one who wants to do it ASAP. No one knows right now whether it's happening tonight or not," the source explained.