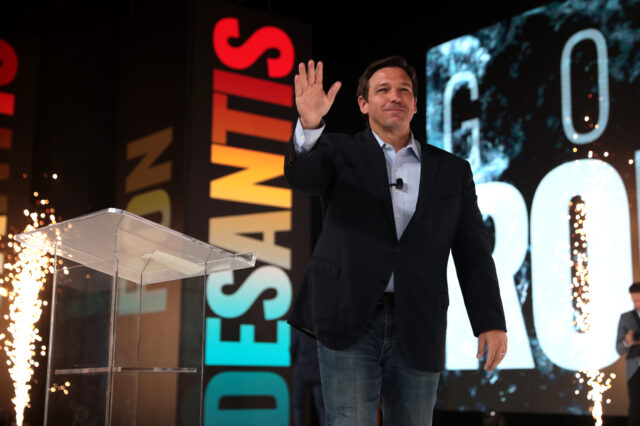 Top Florida Republicans are prepared to clear a path for Governor Ron DeSantis to make a run for the White House.
Currently, Florida law would require DeSantis to resign in order to run for president but legislators have signaled a serious interest in amending the law in the near future.
"Any officer who qualifies for federal public office must resign from the office he or she presently holds if the terms, or any part thereof, run concurrently with each other," the states the law.
DeSantis was re-elected as governor on November 8 with a victory margin of nearly 20 percentage points.
Incoming Florida House Speaker Paul Renner (R) called the suggestion of changing the "resign to run" law a "good idea" on Tuesday after being elected to lead the state's lower chamber.
New Senate President Kathleen Passidomo (R) also told reporters she supported the update.
"If Speaker Renner thinks it's a good idea, I think it's a good idea," she told reporters.
Passidomo addressed reporters and said she does not feel a Florida governor with presidential aspirations should be forced to resign.
"If an individual who is Florida governor is running for president, I think he should be allowed to do it," she said in regard to amending state law to allow DeSantis to keep his office in Tallahassee while running for president – should he choose to do so. "I really do. That's a big honor and a privilege, so it is a good idea."
So far DeSantis has remained committed to winning his gubernatorial re-election and has sought to tamp down 2024 White House speculation. However, the Florida Governor has been widely regarded among Republicans as the most formidable contender to take on Donald Trump who recently announced his own bid for the presidency.
According to The Daily Wire, some legal experts have questioned how the law could apply to DeSantis. Jon Mills, a constitutional law professor at the University of Florida, said in October it could depend on how far DeSantis got in a White House bid.
"The statute in text does say federal,'' he said. "The question is when? What does 'qualification' mean, in terms of running for president? Does it mean you are the final nominee or is it when you qualify for the first primary state?"

But Pinellas County Supervisor of Elections Julie Marcus wrote on her website that the law would not apply to a DeSantis effort to trade Tallahassee for Washington.

"The "resign-to-run" law prohibits an officer from qualifying as a candidate for another state, district, county or municipal public office if the terms or any part overlap with each other unless the officer submits a resignation from the office the person presently holds," she wrote. "Therefore, the "resign-to-run" law would not preclude a sitting state, district, county, or municipal officer from qualifying as a candidate for federal office without resigning from the office the person presently holds as long as the officer is not also seeking to qualify for re-election to his or her present office."