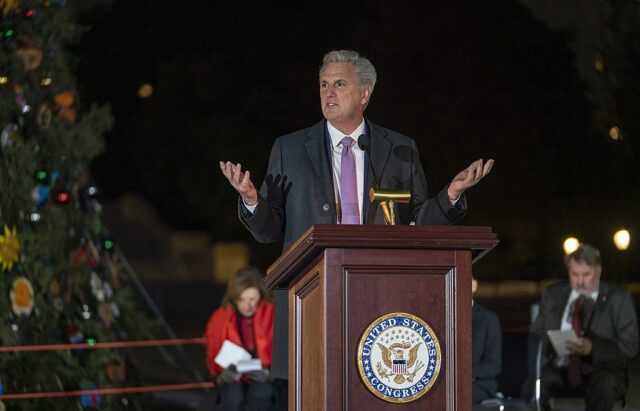 House Speaker Kevin McCarthy (R- Calif.) responded to former President Donald Trump's social media post saying that he will be arrested this week by pledging to have congressional committees investigate whether federal funding was involved in the case out of the Manhattan District Attorney's Office.
"Here we go again — an outrageous abuse of power by a radical DA who lets violent criminals walk as he pursues political vengeance against President Trump," McCarthy said on Twitter. "I'm directing relevant committees to immediately investigate if federal funds are being used to subvert our democracy by interfering in elections with politically motivated prosecutions."
McCarthy's remarks come after Trump wrote on social media Saturday morning that he would be arrested on Tuesday.
"ILLEGAL LEAKS FROM A CORRUPT & HIGHLY POLITICAL MANHATTAN DISTRICT ATTORNEYS OFFICE, WHICH HAS ALLOWED NEW RECORDS TO BE SET IN VIOLENT CRIME & WHOSE LEADER IS FUNDED BY GEORGE SOROS, INDICATE THAT, WITH NO CRIME BEING ABLE TO BE PROVEN, & BASED ON AN OLD & FULLY DEBUNKED (BY NUMEROUS OTHER PROSECUTORS!) FAIRYTALE, THE FAR & AWAY LEADING REPUBLICAN CANDIDATE & FORMER PRESIDENT OF THE UNITED STATES OF AMERICA, WILL BE ARRESTED ON TUESDAY OF NEXT WEEK," Trump posted to his social media platform. "PROTEST, TAKE OUR NATION BACK!"
The remarks from Trump come after a report from NBC News said federal, state, and local law enforcement agencies were planning to prepare for the possibility that Trump could be indicted next week by a Manhattan grand jury in connection with a $130,000 hush money payment he allegedly made to porn actress Stormy Daniels during the 2016 presidential campaign.
Prosecutors are expected to charge Trump with a felony by arguing that the alleged crime was committed to hide an illegal campaign contribution.
Manhattan DA Alvin Bragg reportedly wrote in an email to employees that was obtained by POLITICO: "I'm sure you have seen the ongoing press attention and public comments surrounding an ongoing investigation by this office."
"Please know that your safety is our top priority," Bragg continued. "We have full confidence in our outstanding security staff and investigators, along with our great OCA and NYPD colleagues, and will continue to coordinate with all of them. We do not tolerate attempts to intimidate our office or threaten the rule of law in New York. Our law enforcement partners will ensure that any specific or credible threats against the office will be fully investigated and that the proper safeguards are in so all 1,600 of us have a secure work environment."

"This office is full of the finest public servants in the country. I am committed to maintaining a safe work environment where everyone is able to continue to serve the public with the same diligence and professionalism that make this institution so renowned," Bragg concluded. "In the meantime, as with all of our investigations, we will continue to apply the law evenly and fairly, and speak publicly only when appropriate."
The potential problem for Trump centers around how his company reimbursed former attorney Michael Cohen. The payment to Daniels was listed as a legal expense and the company cited a retainer agreement with Cohen. However, according to The Daily Wire, the retainer agreement did not exist and the reimbursement was not related to any legal services from Cohen, thus setting up a potential misdemeanor criminal charge of falsifying business records. The report said that Trump personally signed several of the checks to Cohen while he was serving as president.
Prosecutors can elevate the misdemeanor to a felony if they can prove that Trump's "'intent to defraud' included an intent to commit or conceal a second crime."

Prosecutors argue that the second crime is that the $130,000 hush payment was an improper donation to the Trump campaign because the money was used to stop a story for the purpose of benefiting his presidential campaign.
Other notable figures have reacted to the news the former president could be charged this week.
Twitter boss and tech mogul Elon Musk speculated that if Trump in fact charged the move will likely be a major boost to his 2024 campaign.
Vivek Ramaswamy, who is running for president, decried the prospect of former President Donald Trump being indicted.
"A Trump indictment would be a national disaster. It is un-American for the ruling party to use police power to arrest its political rivals," Ramaswamy tweeted on Saturday.
He made a reference to the 2004 presidential election in which Democrat John Kerry lost to George Bush and his running mate Dick Cheney.
"If a Republican prosecutor in 2004 had used a campaign finance technicality to arrest then-candidate John Kerry while Bush & Cheney were in power, liberals would have cried foul – and rightly so," Ramaswamy said. "Principles go beyond partisanship."