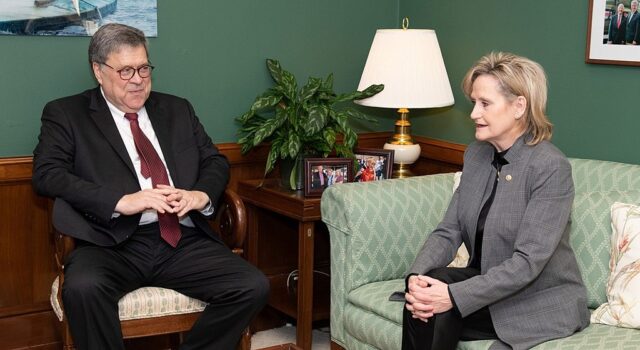 Support for Donald Trump is surging and liberals are losing their minds.
Hours before former president Trump was scheduled to arrive at his arraignment in New York City the 2024 White House contender scored a new endorsement
Senator Cindy Hyde-Smith (R- Miss.) announced she is endorsing former President Trump in the 2024 GOP presidential primary in a statement released late Monday. The Mississippi senator predicted that the charges against Trump will "backfire" on Democrats.
"I support a return to those policies and to President Trump's effective leadership. Further, President Trump has been attentive to the needs of Mississippi, he has made multiple trips here along with members of his Administration, and Mississippians can count on him to continue to focus on our priorities," Hyde-Smith said.
"Therefore, I am endorsing Donald J. Trump for another term in the White House and will be working to assist him in winning the Republican nomination for President in 2024," she added.
Trump's arraignment, which will be presided over by Justice Juan Merchan, is scheduled for 2:15 p.m. and is expected to take less than a half hour.
The unprecedented indictment hanging over Trump's head likely stems from a $130,000 hush money payment he allegedly made to porn actress Stormy Daniels during the 2016 presidential campaign.
Prosecutors are expected to charge Trump with a felony by arguing that the alleged crime was committed to hide an illegal campaign contribution. The potential problem for Trump centers around how his company reimbursed former attorney Michael Cohen, who pleaded guilty to related charges and served time in prison.
The payment to Daniels was listed as a legal expense and Trump's company cited a retainer agreement with Cohen. The retainer agreement did not exist and the reimbursement was not related to any legal services from Cohen, thus setting up a potential misdemeanor criminal charge of falsifying business records. A report by NBC News said that Trump personally signed several of the checks to Cohen while he was serving as president.
Prosecutors can elevate the misdemeanor to a felony if they can prove that Trump's "'intent to defraud' included an intent to commit or conceal a second crime."
Prosecutors argue that the second crime is that the $130,000 hush payment was an improper donation to the Trump campaign because the money was used to stop a story to benefit his presidential campaign.
Trump's lawyer Joe Tacopina told CNN host Dana Bash on Sunday that he expects to make a motion to dismiss any charges.