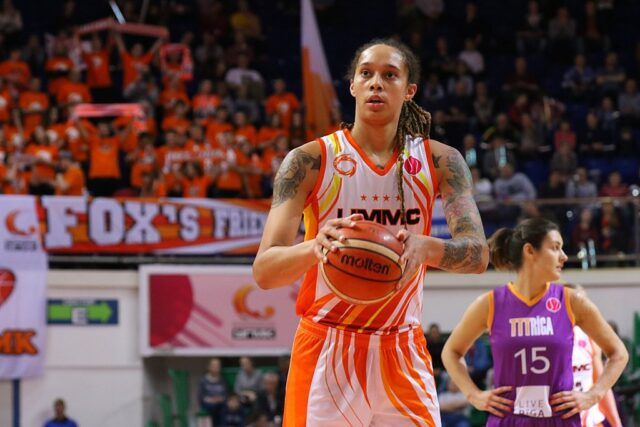 ANALYSIS – Can't say this was unexpected. Joe Biden just traded a convicted Russian arms dealer for a guilty woke basketball player, while leaving an innocent former U.S. Marine to rot in Russian jail.
And to make matters worse, Brittney Griner, who pled guilty to having cannabis vape oil in her luggage, was only in Russian jail for a few months while Paul Whelan, who was set-up and falsely convicted of espionage, has been imprisoned in a Russian labor camp for nearly four years.
Whelan, 52, remains there where he is to continue serving out a 16-year sentence.
Russian arms trafficker Viktor Bout had been serving time in a U.S. federal prison since 2011.
It is clear Biden is playing favorites.
Biden called Griner's wife earlier this year to assure her of his commitment to securing her release. But no similar call was made to the Whelan family, despite multiple requests from Elizabeth Whelan for a meeting with the president.
After news reports about the snub emerged, Biden finally called Elizabeth Whelan in early July.
Of course, from day one, the liberal media has been constantly bombarding us with Griner's sob story in her Russian jail, keeping her issue front and center for maximum PR leverage, while leaving Whelan on the back burner, if at all.
While we read every minor detail of Griner's travails, and she was allowed regular access to the outside world, Whelan was held in a cell at the notorious Stalin-era Lefortovo Prison for over a year, where initially he was denied things like toilet paper and soap, and guards threatened, abused and harassed him.
Whelan also wasn't allowed to make calls to his parents, his mail was censored, and visits from his lawyers and embassy representatives were extremely limited.
Recall that Griner, who is a black lesbian, also refused to stand for the national anthem.
To the left she checks all the super woke boxes.
Meanwhile, Biden blamed Russia for his failure to include Whelan in the trade.
"We've not forgotten about Paul Whelan," Biden said Thursday morning. "This was not a choice about which American to bring home. … Sadly, for totally illegitimate reasons, Russia is treating Paul's case differently than Brittney's. … We will never give up."
Well, that's patently false.
It doesn't matter what the Russians say or want. It's Biden's job to make things happen. It should have been both released for Bout, or no deal.
Especially when one who is young and healthy, and had been arrested for drugs, had only been in jail for a few months, and the other one who was falsely accused, is over 50 and been in a labor camp for 4 years.
However, being gracious, and perhaps in a bid to not alienate Biden, Whelan's twin brother David Whelan, said Thursday:
I am so glad that Brittney Griner is on her way home. As the family member of a Russian hostage, I can literally only imagine the joy she will have, being reunited with her loved ones, and in time for the holidays. There is no greater success than for a wrongful detainee to be freed and for them to go home. The Biden administration made the right decision to bring Ms. Griner home, and to make the deal that was possible, rather than waiting for one that wasn't going to happen.
But as the Detroit Free Press reports, this wasn't the message the Whelan's were sending a few months ago when the U.S. negotiated the release of Trevor Reed, another American wrongfully detained in Russia, in exchange for Russian drug trafficker Konstantin Yaroshenko.
At the time, Whelan's brother David asked: "Is President (Joe) Biden's failure to bring Paul home an admission that some cases are too hard to solve? Is the administration's piecemeal approach picking low-hanging fruit? And how does a family know that their loved one's case is too difficult, a hostage too far out of reach?"
That last message is the more correct one. Biden clearly favored Griner to please his leftist base, while abandoning Whelan, a former U.S. Marine, to rot in A Russian jail. GAND
Opinions expressed by contributors do not necessarily reflect the views of Great America News Desk.