ANALYSIS – Much of the world watched with rapt attention as a massive, sophisticated, high-altitude Chinese surveillance airship slowly crossed the entire United States last week, and Team Biden did absolutely nothing.
Despite being detected days earlier over the Aleutian Islands and parts of Alaska, the 'spy balloon,' as it has been dubbed, was first reported publicly by the White House when it was spotted over sensitive nuclear missile sites in Montana.
Most of us with military or intelligence experience quickly saw the danger and risks of allowing this huge thing unfettered access to our national airspace.
The airship, reportedly 200ft tall and with a payload the size of a jetliner, was likely solar-powered and maneuverable, perhaps using AI technology for guidance.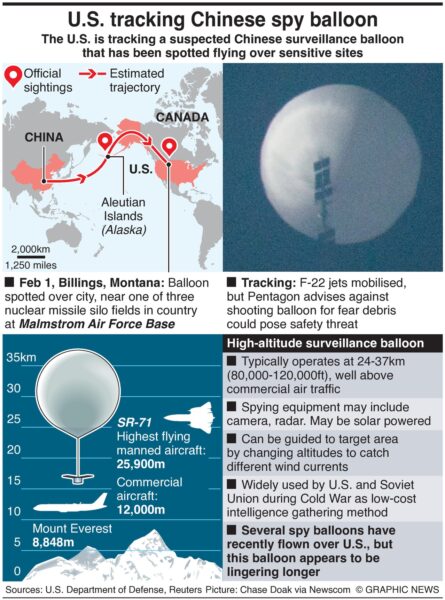 But once the news was out, Team Biden's spin machine kicked into high gear.
"The balloon is not a threat."
"We have everything under control. The Chinese can't gain any valuable intelligence from the airship that they couldn't gather from satellites in low earth orbit."
And the big one – "we don't want to shoot it down because the military says that would pose a danger to people on the ground in sparsely populated Montana.
Of course, much of the establishment news media went along for the ride.
In a belated show of impotent machismo, Biden finally ordered the balloon destroyed after it had completed its 8-day mission and exited U.S. airspace near South Carolina.
One of our most expensive and sophisticated stealth fighters, an F-22 Raptor fired a short-range AIM-9X Sidewinder air-to-air missile at the balloon, quickly sending down the airship with its surveillance payload breaking off as it dropped.
New reports say the balloon contained explosives to self-destruct if needed.
Hopefully, no boaters, swimmers, or fish were hurt by the falling debris.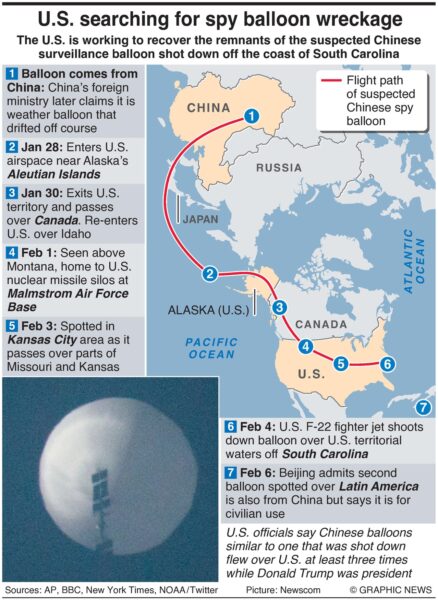 And then the second wave of Biden balloon spin began, with reports that President Trump had ignored multiple similar incursions by Chinese surveillance balloons under his tenure.
Team Trump pushed back saying no one at a senior level had ever been briefed on any similar Chinese balloon incursions.
And it turns out Team Trump was correct.
It appears Team Biden had only gathered information that Chinese balloons had briefly entered U.S. airspace on a few occasions after Trump left office.
They had either not been detected at the time by the Pentagon, or at least they never briefed Trump or his civilian defense or national security officials.
Trump did not ignore similar Chinese challenges, and none of the short-lived, undetected balloon forays during his term lasted anything close to eight days and traversed the entire continental U.S. spying on key military sites throughout.
So, what can we gather from this major test by Communist China?
Well, despite those who claim otherwise, the unprecedented, slow-moving Chinese surveillance platform that traveled across the entire U.S. gave China intelligence it could not otherwise get on nuclear, communications and other critical military and strategic targets.
It also tested U.S. surveillance and counter-surveillance abilities and reactions.
It most certainly served to test China's own growing capabilities, as it pushed the envelope against the United States.
But most importantly it tested America's political will.
And Biden's willingness to let the behemoth balloon cross the U.S. before finally shooting it down failed that test.
It also had the added bonus of showing the world how vulnerable the U.S. is to Chinese power and technology. And how unwilling it is to effectively counter it.
These might be the biggest wins for China.
But beyond that, could this balloon be a precursor to a new type of weapons delivery system?
Some would balk at the idea of a balloon dropping bombs in the 21st century as being far-fetched. But China has tested hypersonic missiles launched from balloons in the past.
And as noted earlier, these aren't everyday hot air balloons.
However, that isn't a likely use for these airships.
The biggest threat is sending one or more of these high-altitude balloons over the U.S. with a small nuclear EMP (Electromagnetic Pulse) device.
As the Washington Examiner reports:
In a 2015 report for the American Leadership & Policy Foundation, Air Force Maj. David Stuckenberg, one of the nation's leading EMP experts, wrote extensively about the threat balloons carrying bombs pose to national security.

"Using a balloon as a WMD/WME platform could provide adversaries with a pallet of altitudes and payload options with which to maximize offensive effects against the U.S.," he wrote in the report.
Detonated at extremely high altitudes (200 miles) these small nukes could knock out power and communications across the US, wreaking widespread havoc for a year or more without firing a shot on the ground. 
It also wouldn't kill anyone or cause kinetic physical damage to anything directly. The damage comes afterward.
The Examiner continues:
Stuckenberg cited the research of the late Peter Pry, who headed a congressional commission on EMP and reported on the potential of a balloon-launched attack.

He wrote in the report, "Peter Pry, a former CIA analyst and member of the Congressional Commission to Assess the Threat to the United States from EMP Attack, stated, 'Imagine the consequences of a balloon EMP attack that damages and destroys electronic systems at the speed of light within an EMP field with a radius of hundreds of kilometers. The Eastern Grid generates 75% of U.S. electricity and supports most of the population." Pry also notes, "Virtually any nuke detonated anywhere over the Eastern Grid will collapse the entire Eastern Grid, not just the area within the EMP field, because of cascading failures that will ripple outward."
This is now a viable threat that Biden's weakness has made even more possible.
Opinions expressed by contributors do not necessarily reflect the views of Great America News Desk.