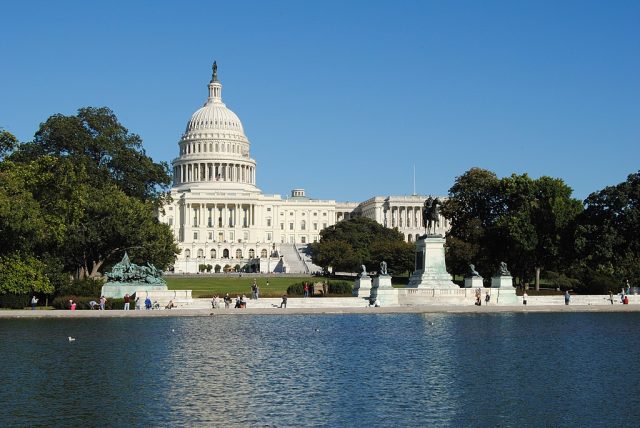 Members of the U.S. House Judiciary Committee investigating the federal government's response to the January 6, 2021 incidents at the U.S. Capitol now reveal that a pair of pipe bombs planted at the Capitol Hill offices of the Republican and Democrat parties may have been a diversion to distract law enforcement from other events.
They also reveal that while the bombs contained live explosives, it does not appear the timers were operable, and the FBI may not even have interviewed the witnesses who discovered them.
In response, Chairmen Thomas Massie (R-KY), Andy Biggs (R-AZ), Jim Jordan (R-OH), and Barry Loudermilk (R-GA) sent a letter to FBI Director Christopher Wray "revealing new information surrounding the FBI's investigation into pipe bombs placed near the Democratic National Committee (DNC) and Republican National Committee (RNC) on January 5, 2021," the Judiciary Committee reports.
"On June 7, 2023, the Committee on the Judiciary conducted a transcribed interview of Steven D'Antuono, the former Assistant Director in Charge of the FBI Washington Field Office (WFO)," the Committee announced.
"In that role, Mr. D'Antuono oversaw the WFO's investigations into the events at the Capitol on January 6, 2021, including the placement of pipe bombs near the headquarters of the DNC and RNC on January 5, 2021. Mr. D'Antuono's testimony provided new information about the FBI's investigation into the pipe bombs and reinforces our concerns about the FBI's handling of this matter," the Committee revealed.
In his transcribed interview, Steven D'Antuono "suggested that the FBI could not even determine whether the placement of the pipe bombs was a 'diversionary' tactic for the events of January 6," the Committee also revealed.
D'Antuono testified:
MASSIE: Are you familiar with the diversion thesis, that these were set up to be a diversion?
D'ANTUONO: Yeah, I've heard people say that, but if you watch – I've done a lot of media reports. I was trying to get the information out there, tips and stuff like that, right. I will not speculate. I'm not going to speculate on that. I think that's speculation, at best, when people say that it's a diversionary tactic. We'll never know until we find the person that actually did – or persons that actually did it. So I can't speculate on that. Could it have been? Yes, that's one theory. Obviously, it's one theory. But is it the only theory? I don't – I really don't know.
MASSIE: It looks like the head Capitol Police [sic] believes it was a diversion.
D'ANTUONO: So Steve Sund, chief of police, yes. I believe he wrote that in his book. Again, it's pure speculation. There's no intelligence – look, I ran the investigation for 2 years until I stepped out. We don't know. We don't even know the gender at this point as to – we could speculate, and there's a lot of people that are speculating as to the gender.
MASSIE: How confident are you that the individual depicted in the surveillance footage on January 5th set both of those pipe bombs in place?
D'ANTUONO: So the video that we saw, I feel confident that by the video that we have, that that person planted those.
D'Antuono also testified on the "viability of the pipe bombs, which, according to reporting, were deemed to be 'inoperable,'" the Committee reports.
"D'Antuono referenced a report from the FBI laboratory in Quantico, Virginia, that the pipe bombs were viable, and 'they could explode, and they could cause harm or death,'" the Committee notes, adding. "D'Antuono also acknowledged that the timer used on the pipe bomb could not have detonated the pipe bomb given the time already elapsed between placement and discovery."
He testified:
MASSIE: Well, let me ask you this: Do you think it was technically possible for a kitchen timer . . . that has [a] 1-hour duration . . . to detonate a bomb 17 hours later?
D'ANTUONO: No, I don't. And I saw the same kitchen timer as you. I agree. I don't know when they were supposed to go off. Maybe they weren't supposed to go off. We can't—we don't know. We honestly don't know, and that's some of the pain . . . .
D'Antuono's testimony "provided additional details about the FBI's use of geofencing technology to identify the pipe bomb suspect," the Committee revealed.
He testified:
D'ANTUONO: So the – there's a lot of phone data that came in. Yes, I've seen the same video. I've watched the same video. We put out the same video. It looks like a phone. Was it a real phone, a not a real phone, was it a ruse? Was it a – you know, I picked up my phone several times at meetings going, oh, yeah, I got to take this call, and walk out, right. The phone's not on, right. So was the person just sitting there trying to pretend like they're on a bench taking a phone call? We don't know until we find the person, right, and ask them those questions.
We did a complete geofence. We have complete data. Not complete, because there's some data that was corrupted by one of the providers, not purposely by them, right. It just – unusual circumstance that we have corrupt data from one of the providers. I'm not sure – I can't remember right now which one. But for that day, which is awful because we don't have that information to search. So could it have been that provider? Yeah, with our luck, you know, with this investigation it probably was, right. So maybe if we did have that – that data wasn't corrupted – and it wasn't purposely corrupted. I don't want any conspiracy theories, right. To my knowledge, it wasn't corrupted, you know, but that could have been good information that we don't have, right. So that is painful for us to not to have that. So we looked at everything.
D'Antuono also testified that he did not definitively know if the FBI had interviewed the individual who discovered the pipe bomb at the DNC.
He testified:
MASSIE: So just to . . . put a fine point on it, you do not know whether they interviewed the person that discovered . . . the [bomb] at the DNC?
D'ANTUONO: I don't know.
The Committee notes "D'Antuono conceded that it would be 'investigation 101' to interview the individuals who discovered the bombs, yet he was unable to confirm whether the FBI had taken this basic investigative step."
He explained:
MASSIE: So – but the person who found – you either haven't identified the person who found the second pipe bomb, or did you?
D'ANTUONO: I – honestly, sir, I don't know the granularity of everything my agents and analysts did in that matter. It's just – it's a whole host of stuff that's going on. As the [Assistant Director in Charge], as like any senior leader, I'm getting briefed on things, and that part never came up, so –
"D'Antuono's testimony raises concerns about the FBI's handling of the pipe bomb investigation, more than 890 days following the placement of the pipe bombs. To date, the FBI has failed to respond to the Committee's requests for a briefing regarding the investigation," the Committee concludes.
Opinions expressed by contributors do not necessarily reflect the views of Great America News Desk.