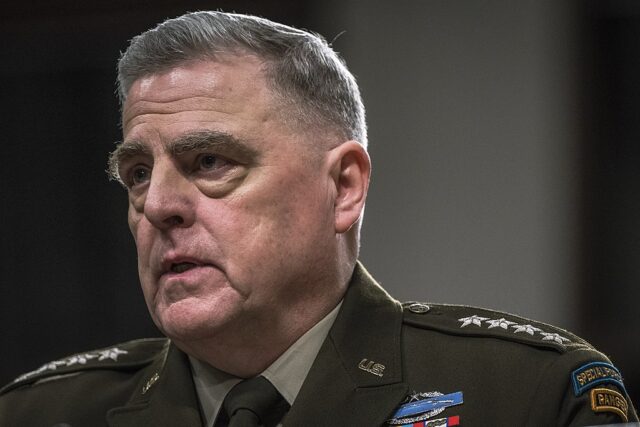 ANALYSIS – Words matter. In a post on his Truth Social platform last Friday, former President Donald Trump suggested that outgoing Chairman of the Joint Chiefs of Staff Mark Milley deserved to be executed after speaking with China's top general during Trump's final months in office. 
Trump said Milley's "treasonous act" was "so egregious that, in times gone by, the punishment would have been DEATH!"
Clearly, Trump wasn't threatening to do so but saying that Milley's actions could have been punished by death in a prior era.
I condemned Milley's actions at the time because they seemed to give the Chinese Communist regime a promise that they would be given a warning prior to any attack under Trump.
While Milley claims his actions were a normal part of his duties, I disagree.
They appeared to be more a normal part of the mission that he took upon himself, which was to counter Trump when Milley believed the president had crossed some line only Milley could see.
Some argue that Milley's actions were not only disloyal to the president but also borderline 'treasonous.'
Milley contends that he was behaving appropriately to avert an accidental war. He responded to Trump's comments on CBS:
He also assured viewers that he had adequate safety measures for himself and his family.
The two backchannel calls to China's top general, Li Zuocheng, that Milley made, and at the center of all this, were revealed in the 2021 book "Peril."
As CNN reported:
In October 2020, as intelligence suggested China believed the US was going to attack them, Milley sought to calm Li by reassuring him that the US was not considering a strike, according to the book. Milley called again two days after the January 6 riot at the US Capitol to tell Li that the US is "100 percent steady" even though "things may look unsteady."
How much of this reporting in the book was accurate, is hard to say. But Trump sees things very differently.
Trump said that Milley "turned out to be a Woke train wreck who, if the Fake News reporting is correct, was actually dealing with China to give them a heads up on the thinking of the President of the United States."
And Trump may be right. For Milley to do that could be seen as highly inappropriate, if not exactly 'treasonous.'
Still, Trump, a former president, and current front-runner for the Republican nomination for president, is way out of line. No American political leader should be using that kind of language against any American military official or political leader.
In today's volatile climate, it is extremely dangerous.
Yet few in the GOP will condemn Trump's statements. Former Arkansas Gov. Asa Hutchinson is one of those willing to take aim at the Republican frontrunner. Politico quoted Hutchinson as saying:
To suggest that Gen. Milley should be executed is inexcusable and dangerous. While some will excuse this latest outrage as Trump just being Trump, the fact is that his statement endangers people and is an insult to those who serve in the military.
Perennial Trump critic, former New Jersey Gov. Chris Christie, had stronger words, calling Trump an "absolute child" for the "reprehensible" remarks.
But it is part of a disturbing pattern by both sides to use dangerously inflammatory rhetoric at the highest levels against the other side.
Democrats raised the political temperature considerably against Trump, calling for, or at least condoning the calls for, his beheading and death on many occasions.
The demonization of Trump by the left and Democrat Party was more than I had ever seen in over thirty years in and around U.S. politics.
It was, and still is, outrageous.
But Trump isn't helping things with his own dangerous rhetoric.
Opinions expressed by contributors do not necessarily reflect the views of Great America News Desk.