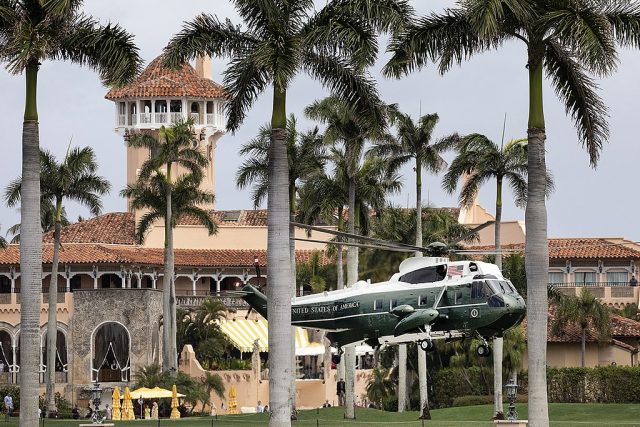 A flurry of emails between Justice Department figures reveal the Federal Bureau of Investigation asked former President Donald Trump's attorneys to shut off Mar-A-Lago's security cameras to prevent any recording of agents searching for classified documents, fearful that Trump would release the footage to his supporters.
The non-profit public interest law firm Judicial Watch reports it received 477 pages of records pages from the Justice Department revealing top officials within the National Security Division "discussing the political implications of Trump allowing CNN to use closed-circuit TV (CCTV) footage of the raid on his Mar-a-Lago home. The documents confirm that the Justice Department had asked that Mar-a-Lago CCTV be turned off before the raid."
The records were released to Judicial Watch in response to a September 2022 Freedom of Information Act lawsuit, filed after the Justice Department failed to respond to an August 2022 request for records about the August 8, 2022 Mar-a-Lago raid.
An August 17, 2022, email exchange, with the subject "CNN – Mar-a-Lago CCTV Footage," reveals officials discussing efforts to shut off Trump's security cameras to prevent him releasing footage of any searches.
"I just received a call from our case agents at FBI, and apparently the Bureau has been given a heads-up by CNN that CNN has CCTV [closed circuit television] footage from Mar-a-Lago (presumably of agents executing the search) that they may air as soon as tonight [Redacted]," writes an attorney, whose name is redacted, with the Justice Department's Counterintelligence and Export Control Section of the National Security Division.
"I have no further info on what, specifically, CNN has. But [redacted]," he or she adds.
"CNN is saying FPOTUS [former president] is still weighing whether to release the footage," Jay Bratt, chief of the Counterintelligence and Export Control Section adds.
"Got a call from Evan [likely then-Trump attorney Evan Corcoran]. As Jay says, Trump team is still weighing the release. Per Evan, some say it will energize base, others say not a good look for FPOTUS to have it out there" writes Communications Advisor Luis Rossello.
"CNN is working on a story that Jay requested Trump team to turn off the cameras and they refused," Rossello continues.
Justice Department official George Toscas replies, "We're waiting to hear back from FBIHQ on their recommended approach."
Bratt writes, "We did. This was in the call [redacted] and I had with Evan Corcoran before the search. It is standard for [redacted]."
At one point, Principal Deputy Associate Attorney General Marshall Miller forwards the email exchange to a personal email account of Deputy Attorney General Lisa Monaco.
It is generally not recommended for government officials to use personal email addresses, which can evade public disclosure.
Miller's comment is entirely redacted, Judicial Watch reports, "to which a Justice Department National Security Division official, whose name is redacted, responds, 'Kelsey/Luis: Will we also plan to communicate to CNN the law enforcement safety need to blur agent faces if footage ends up being released?'"
Anthony Coley, Director of the DOJ Public Affairs Office, replies, "Done."
Opinions expressed by contributors do not necessarily reflect the views of Great America News Desk.