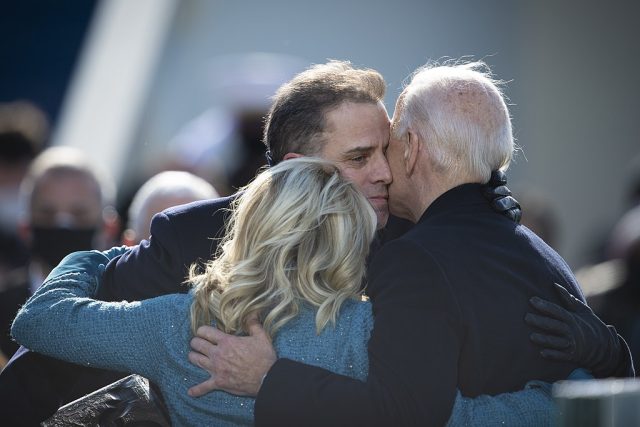 ANALYSIS – After an outrageously long five-year investigation, federal prosecutors are finally going to charge Hunter Biden for various crimes. He is expected to plead guilty.
The catch?
The charges are minimal misdemeanors, and Hunter will get a sweet deal that allows him to avoid any federal jail time. This is thanks to Biden's attorneys who have been negotiating with prosecutors for a very long time.
Many will contrast this to the way former President Donald Trump is being treated by federal prosecutors and see the first son getting preferential treatment.
But don't expect Republicans to just let things go.
Hunter has been under investigation for tax crimes related to his shady overseas business dealings and for illegally possessing a firearm, having allegedly lied about his documented illegal drug use when purchasing a handgun in 2018.
The Blaze reports:
The deal reached between U.S. Attorney David Weiss and Hunter's attorneys, which a judge still needs to approve, will undoubtedly intensify concerns that Hunter received a sweetheart deal.

According to the Washington Post, Hunter "has tentatively agreed to plead guilty to two misdemeanor tax charges of failure to pay in 2017 and 2018." Hunter is accused of not paying taxes on a liability of about $1.2 million. But instead of jail, prosecutors agreed to recommend Hunter receive only probation and pay the amount of taxes that he originally owed.

Meanwhile, Hunter will admit to illegally possessing a firearm, but he will not plead guilty to lying on the federal form. Under typical circumstances, possessing a firearm while using illegal drugs is a felony. But Hunter will technically not be prosecuted for the crime. Instead, he will be offered a diversion program and probation.

When Hunter Biden meets the conditions of diversion, the crime will be removed from his record, but he will be banned from owning firearms, the New York Times reported.
The deal would require Hunter to remain drug-free for 24 months and agree to never own a firearm again. Good luck enforcing any of that.
While the Biden's say, 'case closed,' and spin it all as just a wayward son with a drug problem gone astray, it won't end the superheated politics of the case.
Republicans have argued for years that Hunter Biden committed an array of crimes that should put him behind bars. They have also argued that his crimes call into question the honesty of his father.
And Republicans won't be letting go. This sweetheart deal for Hunter will just intensify their efforts.
The New York Times reports:
Coming less than two weeks after the Justice Department indicted former President Donald J. Trump on charges that he risked exposing national security secrets and obstructed efforts by the government to reclaim classified documents from him, an agreement that allows Hunter Biden to walk free is also sure to bring a torrent of criticism from the right and intensified efforts by House Republicans to portray the Justice Department and the F.B.I. as biased.

As president, Mr. Trump had long sought to tie Hunter Biden's business deals and personal troubles to his father. Mr. Trump's first impeachment had its roots in his efforts to persuade the Ukrainian government to help him show wrongdoing in Hunter Biden's work for Burisma, a Ukrainian energy company, and while in the White House he pressured the Justice Department to investigate.
Republicans still believe, notes The Times, that "the president has been complicit in an effort engineered by his son to enrich his family by profiting from their positions of power."
The Times even admits about Hunter:
After his father became vice president, he built relationships with wealthy foreigners that brought in millions of dollars, surfacing concerns inside the Obama administration and among government watchdog groups that he was cashing in on his family name…

But the questions about what occurred during that period never led to conduct that prosecutors believed could win them a conviction in court.
Let's see if the House investigations will find more damning evidence than federal prosecutors did.
Opinions expressed by contributors do not necessarily reflect the views of Great America News Desk.