ANALYSIS – If you can't beat him, charge him. As I wrote earlier: "From the four-year Hillary Clinton-manufactured 'Russia collusion' hoax to corrupt investigations to 'deep state resistance' within his administration to a partisan impeachment – no [other] president has been so unfairly hounded in U.S. history."
But the persecution clearly didn't end with Donald Trump leaving the White House. The absolute fear he could return to office has since resulted in multiple prosecutions from idiotic nonsense such as his bookkeeping regarding hush money to a porn actress, to sexual assault that reportedly happened 30 years ago.
But that was just the beginning, and those cases were brought by partisan local prosecutors. Now the prosecutorial floodgates have opened wider, with Joe Biden's Department of Justice (DoJ) being weaponized to go after Trump.
While I have blamed the ex-president for bringing the classified materials charges upon himself – see my earlier piece – there is no doubt that politics is playing a big part as well.
And it is getting hard to keep up with all the charges and case and court timelines. His most recent indictment being related to his words and actions leading up to and during the January 6 Capitol Riot.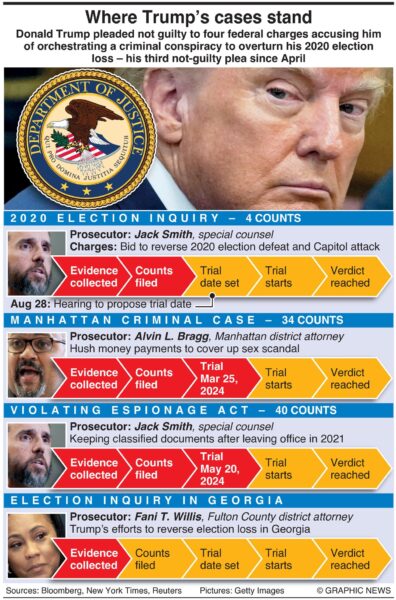 "Not guilty," Trump stressed the first word of his plea on Thursday (August 3) before Magistrate Judge Moxila Upadhyaya.

The arraignment — U.S. special counsel Jack Smith's second DoJ indictment against the former president — charges Trump with conspiracy to defraud the United States, obstruction, conspiracy to obstruct the Electoral College vote certification, and conspiracy against voter rights.
Charges that could carry serious prison time if convicted.

With the latest four charges, Trump now faces 78 criminal counts.

The 45-page indictment says Trump "pursued unlawful means of discounting legitimate votes and subverting the election results."

Trump's next court date will be August 28, when U.S. District Judge Tanya Chutkan, a harsh critic of January 6 defendants, and Obama-appointee, sets a trial date.

"This is a very sad day for America," Trump told reporters after the hearing, portraying the indictment and the other three criminal cases against him as a "witch hunt" intended to derail his 2024 presidential campaign.
Among the criminal charges that special counsel Jack Smith released; media identified six of Trump's former lawyers as unnamed co-conspirators in his bid to rig the elec­tion.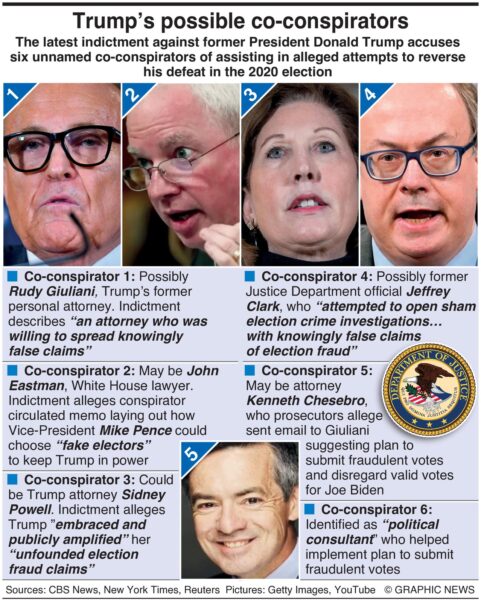 They possibly are Rudy Giuliani, Trump's former personal attorney; White House lawyer John Eastman; Trump attorney Sidney Powell; former Justice Department official Jeffrey Clark; and attorney Kenneth Chesebro.

The description of the sixth co-conspirator is a "political consultant" and is not immediately apparent — the indictment gives few details.
The consultant identified attorneys who could help carry out a scheme to present fake Electoral College votes to Congress as lawmakers certified the election results.
According to the indictment, co-conspirator No. 2 is a lawyer who drafted a plan to have Vice President Mike Pence throw out Joe Biden's Electoral Votes in Congress.

Speaking publicly for the first time since Trump's indictment, Pence told reporters he had hoped it wouldn't come to a charge.

"Sadly, the president was surrounded by a group of crackpot lawyers that kept telling him what his itching ears wanted to hear," said Pence.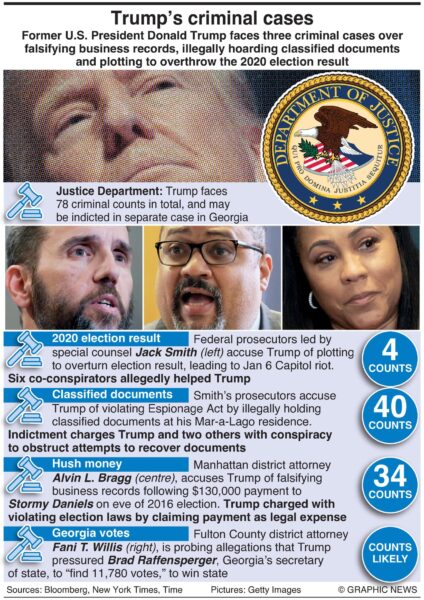 Of the 78 charges across three criminal cases, 44 are federal and 34 state charges, all felonies, in three jurisdictions. Trump has denied wrongdoing in every case.

However, Trump's legal woes have done little to damage his status as a Republican front-runner. A New York Times/Siena College poll between July 23-27 showed a landslide lead of 37 percentage points over Gov. Ron DeSantis of Florida, his closest competitor in the Republican primary.
Trump's best defense against these mostly politicized prosecutions may be winning the White House in 2024.
Opinions expressed by contributors do not necessarily reflect the views of Great America News Desk.