Barbie was released in cinemas worldwide on July 21. Since then, according to Warner Bros., the colorfully controversial, left-leaning, gender-bender, fantasy-comedy movie has drawn in $459m so far in the U.S. and $572m internationally.
That means it has already topped $1 billion overall. This is a huge global smash. But what does it say about us?
Oscar-nominated Barbie writer and director Greta Gerwig also became the first female filmmaker to surpass the billion-dollar benchmark as a solo director, Warner Bros. said.

Other female directors have helmed films that have surpassed the $1bn-mark, but they were working with others. Frozen, the animated blockbuster, and its sequel have generated more than $1.4bn in box office takings and were co-directed by Jennifer Lee and Chris Buck.

Meanwhile, Captain Marvel, starring Brie Larson and co-directed by Anna Boden and Ryan Fleck, generated more than $1.1bn at the box office.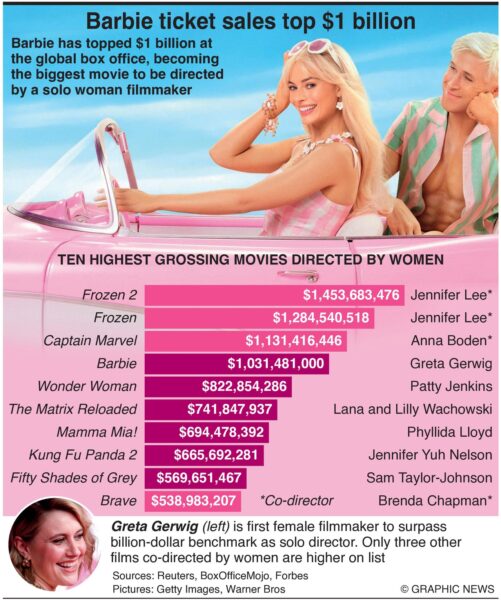 But what is the very pink themed movie, starring Margot Robbie (the primary Barbie) and Ryan Gosling (the primary Ken), about? What is its messaging?
The feminist comedy with a PG-13 rating's plot hinges on Barbie leaving her fake but perfectly idealized world behind and, like Pinocchio before her, becoming "real."
That's when it gets political and goes straight into lefty social issues like 'the patriarchy,' and gender confusion-fusion.
Elon Musk mocked the film on 'X,' formerly known as Twitter, saying: "If you take a shot every time Barbie says the word 'Patriarchy,' you will pass out before the movie ends."
Conservatives have derided the Barbie movie's anti-male themes, and inclusion of a trans-gender actor/actress playing one of the Barbies. The critics include journalist Piers Morgan and commentator Ben Shapiro. Newsweek reported:
"If I made a movie mocking women as useless dunderheads, constantly attacking 'the matriarchy,' and depicting all things feminist as toxic bulls***, I wouldn't just be canceled, I'd be executed," Morgan wrote in his columns for British newspaper The Sun and The New York Post after seeing the Barbie movie.
Shapiro meanwhile went as far as to burn a Barbie and Ken doll on Saturday, after seeing the movie the night before. The following Monday he claimed he had received death threats for his stunt."
Writing for the New York Post, Morgan added: "the movie achieves exactly what it wanted to achieve and that is to establish the matriarchy as the perfect antidote to the patriarchy when in fact it's just the same concept that they asked us all to detest in the first place."
The movie "forgets its core audience of families and children while catering to nostalgic adults and pushing lesbian, gay, bisexual and transgender character stories," wrote a contributor to Movieguide, a site with a conservative Christian bent.
Ginger Gaetz, wife of conservative Republican Congressman Matt Gaetz, posted on 'X' that at the premiere, she saw "disappointingly low T from Ken," referring to testosterone, and she also called him a "beta" male, not an alpha.
Less politically, Time said: "Barbie never lets us forget how clever it's being, every exhausting minute."

Mattel has a lot riding on its $100m Barbie movie, the first of a planned slew of films from the toy-making behemoth that include Masters of the Universe, Barney, Hot Wheels and Magic 8 Ball, to name but a few.

The Barbie doll was launched by Mattel in 1959, when the toy-maker itself was only 14 years old, and has sold over a billion units over six decades.

Today, Barbie is still considered Mattel's crown jewel, driving about a third of its $5 billion annual revenue.
Since 2018, Mattel has been working on a strategy to license its intellectual properties to Hollywood, to reverse a sales decline over recent years. The new movie was a big gamble for Mattel Films.
A hit would boost toy sales, a flop would have done the opposite – threatening other projects currently in pre-production. But the gamble has clearly paid off.
Opinions expressed by contributors do not necessarily reflect the views of Great America News Desk.