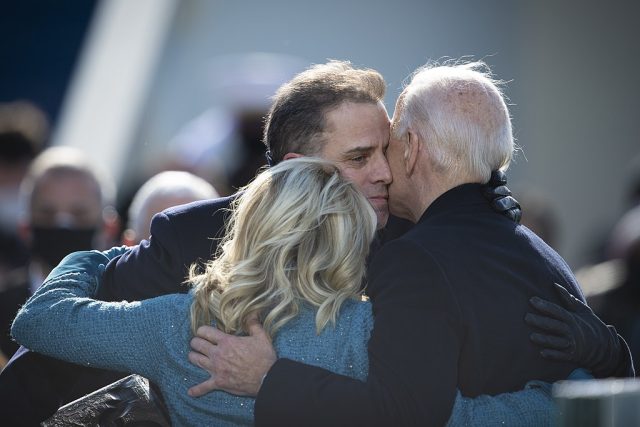 In a stunning revelation, congressional investigators reveal the Central Intelligence Agency reviewed, approved and may have even recruited signers for an October 2020 public letter from 51 intelligence officials that falsely claimed damaging information against Democrat nominee Joe Biden had been "planted" the Russian government.
Specifically, the letter, produced with the help of the CIA, claims Russian agents faked the contents of a laptop computer, abandoned at a Delaware computer shop by Biden's middle-aged son Hunter.  Files, documents, and photograps on the laptop show Hunter Biden using drugs, frequenting prostitutes and engaged in shadowy business deals with foreign officials, which may also allegedly Joe Biden.
As part of a plan to assist Biden's campaign and defeat President Donald Trump, 51 intelligence officials signed their name to a public letter claiming, without evidence, the laptop was planted by the Russian government.
That claim has since been proven to be a lie.

It is now also revealed the CIA had a hand in its production.
After an investigation, House Judiciary Committee Chairman Jim Jordan (R-OH) and Intelligence Committee Chairman Michael Turner (R-OH) have released a report revealing
the CIA's "Prepublication Classification Review Board" or "PCRB" "reviewed and approved the statement before its release."
"Furthermore, evidence suggests that one CIA employee working at the PCRB may have shopped the letter to a former CIA officer who later agreed to add his name to the statement," the lawmakers reveal in a statement.
The House Judiciary Committee, in a statement, further reveals:
On April 5, 2023, former CIA Deputy Director Michael Morell testified before the Committees that Secretary Blinken, then serving as a senior Biden campaign advisor, was the impetus of the public statement. Documents also revealed that Morell rushed the statement through the PCRB process in order for Vice President Biden to have a "talking point" to use during the October 22, 2020, presidential debate.

Additionally, evidence suggests that senior Biden campaign officials, including now Secretary of State Antony Blinken, now Deputy Press Secretary Andrew Bates, and now Counselor to the President Steve Ricchetti, took active measures to discredit the allegations about Hunter Biden by exploiting the national security credentials of former intelligence officials and coordinated efforts to disseminate the statement with members of the media. Morell's testimony also exposed that the CIA's PCRB reviewed and approved the statement before its release.

According to a written statement provided to the Committees by former CIA official David Cariens, the CIA—or at least an employee of the CIA—may have helped in the effort to solicit signatures for the statement. Cariens explained that he spoke with the PCRB in October 2020 regarding the review of his memoir and during that call the CIA employee "asked" him if he would sign the statement.
Opinions expressed by contributors do not necessarily reflect the views of Great America News Desk.