ANALYSIS – Even as the indictments pile up, or maybe because of them, a new national NBC News poll finds former President Donald Trump expanding his national lead in the Republican presidential nominating contest to 43 points over his nearest rival, Florida Governor Ron DeSantis.
Trump leads the first-choice field with 59% of national Republican primary voters. In comparison, Ron DeSantis gets support from 16% — followed by former United Nations Ambassador Nikki Haley at 7% and former Vice President Mike Pence at 4%.
The poll also includes an all-time high disapproval of Joe Biden's job performance. Fewer than 4 in 10 voters (37%) approve of his handling of the economy. This is huge.
As NBC News reported:
Deeper inside those numbers, Biden is underwater among voters between the ages of 18 and 34 (46% of them approve of his job performance), all women (46%), Latinos (43%) and independents (36%).

What's more, the NBC News poll finds 37% of voters approve of Biden's handling of the economy, and 41% approve of his handling of foreign policy.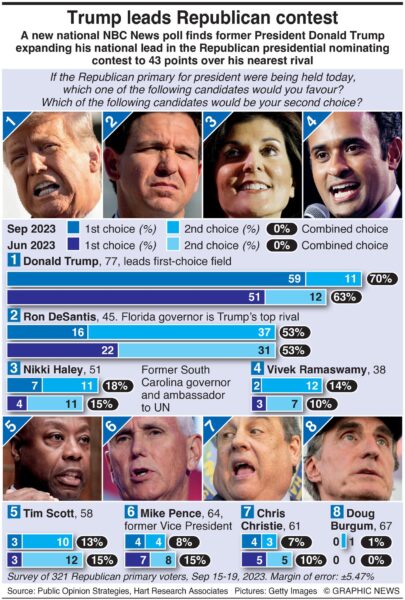 Biden is also taking a big hit for his open borders policy and unprecedented waves of illegal immigration on his watch, as also shown by a recent The Washington Post-ABC News poll.
Axios noted:
"A variety of factors may be at play," [ABC News' Gary] Langer writes in his analysis. "Biden's poor performance ratings, the extent of economic discontent, the immigration crisis and doubts about his age clearly are relevant."
Axios added: "In the Post-ABC poll, 44% said they're worse off — the most for any president in the poll since… 1986, ABC News' Gary Langer said in his poll analysis."
"In NBC, Biden's disapproval rating is the highest of his term for that poll."
NBC News also noted that: "Another 60% have major concerns (45%) or moderate concerns (15%) about Biden's possible awareness or involvement in the business dealings of his son, Hunter, including alleged financial wrongdoing and corruption."
"This [NBC] survey is a startling flashing red light for an incumbent party," said Republican pollster Bill McInturff of Public Opinion Strategies. McInturff conducted the September 15-19 poll with Democratic pollster Jeff Horwitt and his team at Hart Research Associates.
"Yes, the numbers for Biden aren't where he needs them to be," said Horwitt. However, Trump and Republicans have challenges, such as the GOP front-runner's unpopularity with the general electorate.
Most polls show that both Trump and Biden have high unfavorability going into a general election.
NBC News reported: "Three-quarters of voters say they're concerned about President Joe Biden's age and mental fitness, while nearly two-thirds have concerns about the multiple trials former President Donald Trump faces, a new national NBC News poll finds, casting a gloomy shadow over the upcoming 2024 presidential election."
Opinions expressed by contributors do not necessarily reflect the views of Great America News Desk.