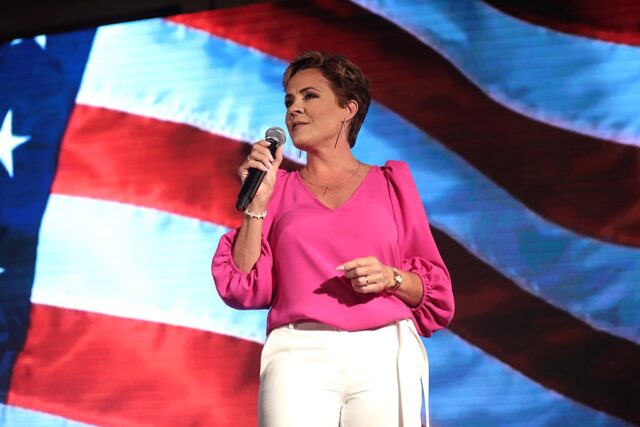 Popular Arizona MAGA firebrand Kari Lake is reportedly planning to launch her highly anticipated Senate campaign on October 10th, according to her campaign.
Lake's entrance into the race makes her the most high-profile Republican to seek to unseat Independent Sen. Kyrsten Sinema.
Sen. Sinema has yet to announce her re-election campaign, however, Rep. Rueben Gallego (D) is also widely expected to launch a Senate campaign
Blake Masters, who ran an unsuccessful campaign against Sen. Mark Kelly (D-Ariz.) in 2022, is also reportedly considering another bid for Senate. 
However, Trump reportedly dissuaded Masters from running in a phone call, saying that he'd likely lose to Lake in a primary.
She touted strong early polling numbers in lobbying for her candidacy.
"I've looked at the polling, to be honest, and I believe I'm the only one who can win that race," Lake said in July.
Lake, a former television news anchor who rose to prominence after losing the 2022 gubernatorial race to now-Gov. Katie Hobbs (D), has not yet conceded. She still contests that she won the election and that it was fraudulently awarded to Hobbs.
Lake has also been floated as a potential running mate for Trump.