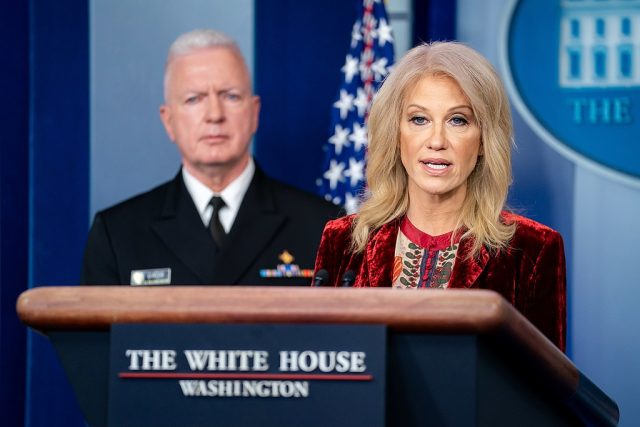 Longtime Donald Trump strategist Kellyanne Conway gave shocking insight into the former president's long-awaited 2024 election announcement.
When asked when Trump plans to make a formal election announcement Conway revealed the former president will likely make it public following the midterm elections.
Conway noted that some in Trump's circle had urged him to announce before the midterms, but she and others advised him against doing so and potentially stepping on Republicans' chances of taking back both chambers of Congress. 
"I give him a ton of credit for not announcing this year, for not stepping in the way of midterm candidates. […] I think you can expect him to announce soon," Conway said at a Christian Science Monitor event.
Trump has recently made more subtle hints about his 2024 plans while in public. During recent appearances, Trump's small but noticeable shift in language is considered a key indicator he's preparing to make his announcement.
Last year, Trump told Fox News and other outlets he would "probably" wait until after the 2022 midterm elections to formally announce whether he will launch another White House bid, saying the timeline was "probably appropriate."
However, at a rally in Robstown, Texas, on Oct. 22, Trump slightly altered his messaging, saying he will "probably have to do it again," in what advisers close to him tell Fox News Digital is a "clear sign" of his plans.

"I ran twice," Trump said. "And now in order to make our country successful, safe and glorious again, I will probably have to do it again."

Trump advisors and those around him told Fox News Digital that they believe it is not a question of "if" Trump is going to run for president again in 2024, but "when" he is going to announce his campaign.

In his final week of campaigning, Trump is focused on get-out-the-vote efforts, but sources close to him tell Fox News Digital that he sees his involvement in early primaries in key battleground states like Arizona, Nevada, Ohio, Pennsylvania, Georgia, Florida and Michigan as "key tests," noting that the outcomes of those races will be "important" to, what some call, an "inevitable" decision.

A new report from The New York Times indicates Trump already has a potential date for the announcement and multiple advisers. According to sources close to the former President, Trump is eyeing November 14th as the potential date he announces his third presidential campaign.

Trump's daughter, Tiffany Trump is scheduled to get married at his Mar-a-Lago estate in Florida on Nov. 12. An announcement could come shortly after that event.