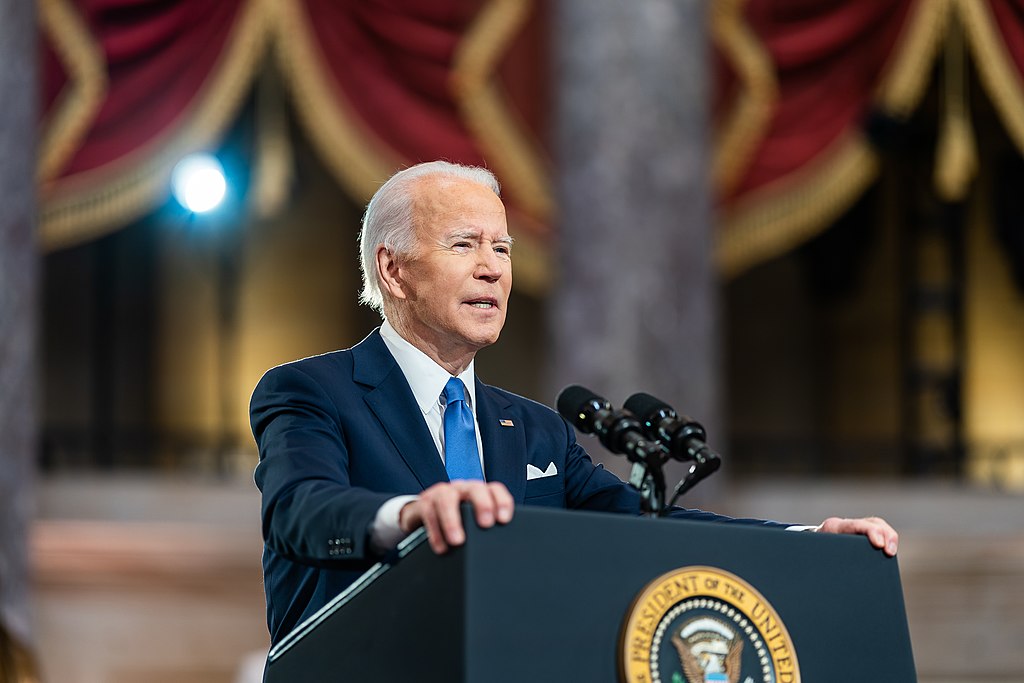 ANALYSIS – Joe Biden has made a bizarre habit of awkwardly and abruptly walking away from important events, often leaving other world leaders and important figures alone waiting for a handshake or photo.
Sometimes Biden also shakes hands with people who aren't there or walks around dazed and confused.
But now he did this disrespectful walking away schtick at the White House to an elderly Vietnam War hero, Army Captain Larry L. Taylor, to whom Biden had just presented the Medal of Honor.
The heroic Taylor earned the medal by braving intense ground fire for 45 minutes while making low-level attack runs, strafing the enemy with bullets and aerial rockets while flying an AH-1 Cobra attack helicopter as a mass of Vietnamese insurgents surrounded a small U.S. Army patrol on the ground. 
Running low on fuel and ammunition, Taylor eventually decided to extract the four men on his own with his two-man-only chopper.
As The Blaze reported: "Immediately after setting the Medal of Honor around Taylor's neck and giving the tearful veteran a handshake, Biden abruptly bolted out of the East Room as if to beat the traffic."
In the video of the ceremony, one reporter can be seen with a look of bewilderment at the sight of Biden hurrying out since the event was far from over.
Left standing alone next to the American flag, the uniformed 81-year-old Taylor remained stoically at his post, waiting for the closing benediction.
Referring to Biden, former Navy SEAL Shawn Ryan wrote on X, "Pardon my French… But what a f***ing idiot."
Taylor, originally from Chattanooga, Tennessee, flew over 2,000 combat missions in UH-1 and Cobra helicopters, was engaged by enemy fire 340 times, and was forced down five times in Vietnam, according to the Army.
He had already received at least 50 combat decorations, including 43 Air Medals, a Bronze Star, two Distinguished Flying Crosses, and the Silver Star, before being awarded the Medal of Honor, the highest recognition for bravery in the U.S. military.
The actions that earned Taylor the award were courageous indeed. On the evening of June 18, 1968, a four-man Army long-range patrol (LRP) team was trapped and surrounded by a large Viet Cong force.
The team desperately called for fire support. And that's when Taylor came to the rescue. The Blaze reported that Lt. Col. Ann Hughes detailed Taylor's brave deeds near the village of Ap Go Cong, prior to Biden's sudden departure from the stage:
Then-1st Lt. Taylor heard the call and came powering over at the command of a light fire team comprising two [two-man] Cobra helicopter gunships.
Upon arrival, Taylor "immediately requested illumination rounds and supporting artillery to assist with identifying the enemy positions," even though the fulfillment of that order would make his aircraft similarly easier to see and target.
Hazarding "intense enemy groundfire" and flying "at a perilously low altitude," Taylor fed the enemy encircling the patrol team a constant stream of hot lead and rockets, and he did so for 45 minutes.
As all good things come to an end, Taylor's team began running low on ammunition. However, the Americans below were not yet out of harm's way. The Tennessean appealed to light to stop the encroaching darkness in its tracks.
The outlet continued quoting Hughes, "using his chopper's searchlight, Taylor began performing fake strafing runs on the enemy, thereby distracting them from the patrol team."
Running low on fuel, Taylor and his wingman pushed the insurgents back using up their remaining minigun rounds, then "directed the patrol team to move 100 yards towards the extraction point, where First Lieutenant Taylor, still under enemy fire, landed his helicopter and instructed the patrol team to climb aboard anywhere they could."
Lt. Col. Hughes stressed that an extraction on a Cobra gunship was a "feat never before accomplished."
The narrow Cobra, an advanced version of which is still flown by the Marines, is a two-seat hotrod of a helicopter gunship made for fast attack, not troop carrying.
This is serious stuff, an award well deserved, but Biden just walked away after giving Taylor his medal.
Rep. Wesley Hunt (R-Texas), an Army veteran who also flew helicopters, wrote, "At least he didn't check his watch this time."
In 2021, Biden repeatedly looked at his watch during a solemn ceremony for the 13 U.S. troops killed amid his botched Afghanistan withdrawal.