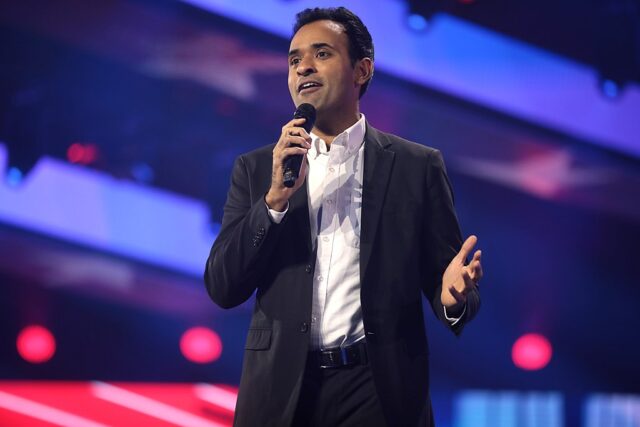 A top supporter of former President Trump in the crucial early-voting state of New Hampshire is joining rival Republican candidate Vivek Ramaswamy's campaign.
According to Fox News, longtime state Rep. Fred Doucette, who served as New Hampshire co-chair of Trump's 2016 and 2020 presidential campaigns, is joining the Ramaswamy campaign as a senior strategist and co-chair in New Hampshire.
The Granite State holds the first primary and second overall contest in the GOP's presidential nominating calendar.
Doucette, the current deputy majority leader in the Republican-controlled state House of Representatives, said in a statement that Ramaswamy is a candidate that gives someone to vote for instead of someone to vote against, in a thinly-veiled jab at President Joe Biden.
"Vivek is the person who will deliver the America First agenda, without the drama," Doucette said in a statement released on Thursday by the Ramaswamy campaign.
Doucette stressed, "I believe that President Trump's agenda worked" and said his decision not to support the former president as he runs a third straight time for the White House was "terribly hard."

"I came on board in March of 2015 and we were fired up. We were energized. We were engaged. We were about getting it done," Doucette recalled. But he described the current Trump campaign as "flat."

Doucette argued that Trump's 2024 campaign "is not taking a page and looking forward" and said that impression "played into a lot of my decision-making." He added that Trump supporters in the key primary and general election battleground state "were disappointed" in some of the decisions made by the Trump campaign.
"Fred gets things done. He has a proven track record of leadership, delivering results and winning," Ramaswamy said in a statement. "We're taking America First to the next level, and I am confident Fred will be a key asset in our mission in the crucible of New Hampshire politics. We're ready to roll and revive the American experiment, starting with the Granite state."
Ramaswamy has hit the ground running since announcing his presidential campaign in February, traveling to New Hampshire and Iowa numerous times.