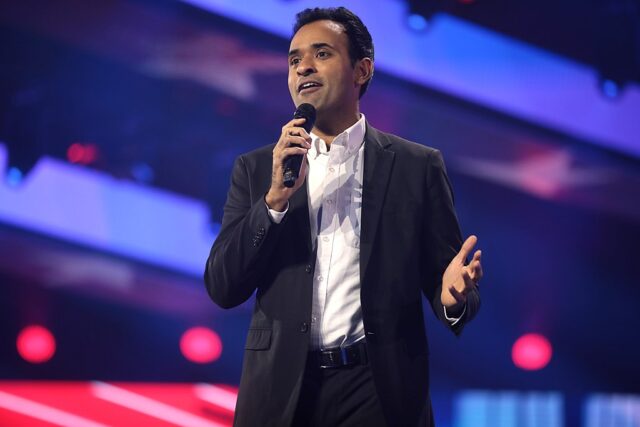 ANALYSIS- Who is this skinny guy with the funny-sounding name? (That was his opening line at the debate). Vivek Ramaswamy wasn't supposed to be at the center of the first Republican presidential candidate debate in Milwaukee.
Ron DeSantis was supposed to be the viable GOP alternative to Donald Trump. A two-term governor of the third most populous state in the union, DeSantis, a Navy veteran who served in Iraq, is as conservative as they come.
And he has a proven track record of fighting the left in Florida – and winning.
But despite his solid bona fides and resume, DeSantis has a personality problem. He just doesn't exude charm or confidence, and that's hurting him – a lot.
Meanwhile, Ramaswamy the 38-year-old Trump-defending, Cincinnati-born, biotech billionaire (worth at least $950 million), son of Pakistani immigrants, kind of stole the show at the debate.
According to former FBI agent and body language expert, Joe Navarro: "[Ramaswamy] consistently looked the most comfortable on stage."
He was also the most openly and unabashedly pro-Trump. He was the first candidate to raise their hand when asked who would support the former President as the party nominee even if he is convicted on felony charges that he's facing.
He has also promised to pardon Trump if elected. But he went even farther than that.
"President Trump, I believe, was the best president of the 21st century," Ramaswamy said in a clip from the debate Trump posted on Truth Social.
And Trump loved it.
"This answer gave Vivek Ramaswamy a big WIN in the debate because of a thing called TRUTH. Thank you, Vivek!"
The ever-smiling political newbie Ramaswamy, who seemed to be having a blast on stage, was also the target of many of his GOP rivals.
As TIME reported:
Maybe it was Ramaswamy's consistent and confounding defense of All Things Trump. Maybe it was his smooth talk and culture-war acumen. Maybe it was just the fact that Ramaswamy frankly does not care how things were done before and might just have enough self-made money to go the distance.
Former New Jersey Gov. Chris Christie snarled that he had "had enough already tonight of a guy who sounds like ChatGPT," an A.I. battery. He then dismissed Ramaswamy as someone on the same level as a political figure universally loathed in the GOP. "The last person in one of these debates… who stood in the middle of the stage and said, 'What is a skinny guy with an odd last name doing up here?' was Barack Obama. And I am afraid we are dealing with the same type of amateur standing on the stage tonight," Christie said.
But the quick witted Ramaswamy's riposte to Christie was a zinger: "Give me a hug like you did to Obama, and you'll help elect me just like you did to Obama. Give me the damn hug, brother."
Ramaswamy was referring to the 2012 incident when Christie was accused of "hugging" Obama during his visit in the aftermath of Hurricane Sandy which hit days before the 2012 presidential election.
It's a claim that Christie has been denying since then, saying: "I didn't hug him."
Photos at the time seem to back up Christie, but the zinger still worked.
Former U.S. Ambassador to the UN under Trump, and ex-South Carolina governor, Nikki Haley, who is of Indian descent, hit Ramaswamy too: "You have no foreign policy experience, and it shows."
I would agree with that assessment and believe he has made a few deeply flawed important national security statements – including on Ukraine and Israel.
But he is super smart and can learn quickly.
Then Vice President Mike Pence took a Christie-like jab at Ramaswamy, attacking the very same quality that originally helped raise Trump in the GOP base – that he is not a politician.
"Now it's not the time for on-the-job training," retorted Pence. "We don't need to bring in a rookie. We don't need to bring in people with no experience."
AS TIME noted: "Attacks during debates are the norm but this was different. Ramaswamy's competitors really don't like him. Not even a little."
However, there is one important GOP rival who seems to like Ramaswamy – Donald Trump. And that could be all that matters.
Opinions expressed by contributors do not necessarily reflect the views of Great America News Desk.