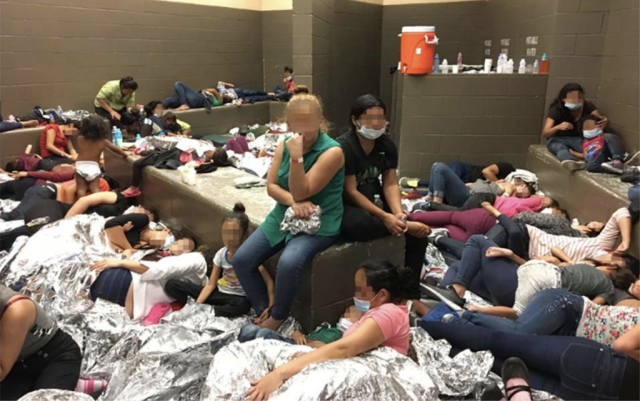 The U.S. border is on red alert.
A report from the Department of Homeland Security (DHS) is revealing concerns about an overwhelming number of migrants from Venezuela flooding the border due to an incorrect understanding of U.S. immigration policy.
According to an internal DHS memo obtained by the Daily Caller, some factors leading to the impending swell at the border could be political changes, new visa requirements, a lack of resources due to the COVID-19 pandemic, and poor economic conditions in Latin American countries Venezuelans fled to.
The report also noted confusion regarding Temporary Protected Status (TPS) policies for Venezuelans is also another factor leading to the increase in migration.
"Deteriorating opportunities for Venezuelans in Latin America coupled with changing immigration policies will likely increase Venezuelans' decision to travel to the U.S. southwest border (SWB) via the Darien Gap and Mexico," the memo stated. "Venezuelans may also be pulled to the United States by the perception that once they reach the border, they have a greater chance of remaining in the United States, based on a misunderstood perception of temporary protected status."
TPS is currently granted to Venezuelans who were in the U.S. as of March 8, 2021. However, in July the DHS announced an 18-month extension for those already in the program to renew their statuses.
Cato Associate Director of Immigration Studies David Bier previously told the DCNF a primary reason many Venezuelans aren't sent back under Title 42 is because the U.S. doesn't have diplomatic relations with Venezuela, which refuses to allow for deportation flights.
"This is true for deportations from Mexico as well," Bier said. "The Trump administration also put a flight ban in effect for Venezuela, meaning no flights are allowed to go there. Nonetheless, some expulsions are still happening via third countries, but it's much more difficult."
Of the more than 5 million Venezuelan refugees in Latin America approximately 3.7 million of them live in Colombia and Peru, where they face "violence, hate, abuse, sexual and labor exploitation, and discrimination," according to the memo.
"An exodus from these two countries alone would be a major concern as it could potentially signal larger waves of Venezuelan migrants to emigrate to the United States," the memo said.
Nearly 150,000 Venezuelans are in Panama, however these refugees are close to losing their "pathways to residency" because of legislation that is set to expire, making their best option to come to the U.S. illegally.
"Without access to legal status, migrants cannot apply for work permits and are forced to seek jobs in the informal market, making them vulnerable to exploitation," the memo said. "For those qualified to renew their regularization status, the 2,600 USD smuggling fee is cheaper than paying regularization costs in Panama."
According to Customs and Border Patrol, the number of Venezuelan migrants encountered in fiscal year 2022 is over triple the number encountered the previous fiscal year, when 1,270 Venezuelans were expelled under Title 42.