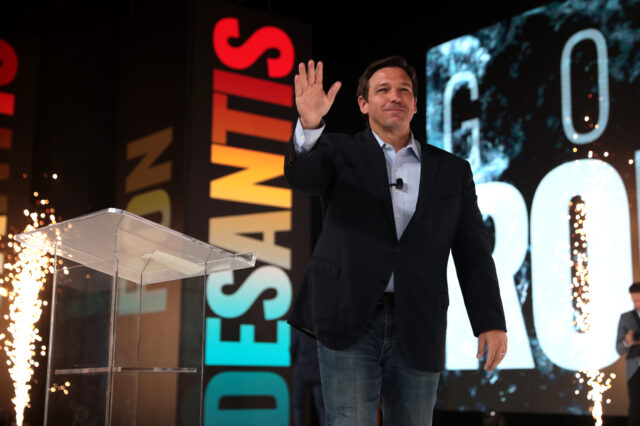 Florida Governor Ron DeSantis will reportedly travel to multiple states this month to campaign for key Trump-endorsed candidates.
DeSantis is planning to travel to New Mexico, Arizona, Pennsylvania and Ohio this month to participate in rallies being organized by Turning Point USA. The popular governor will stump for key candidates including Ohio Republican candidate for Senate JD Vance, Pennsylvania's GOP gubernatorial candidate Doug Mastriano, Arizona Republican candidate for Senate Blake Masters and GOP nominee for governor Kari Lake.
According to Fox News:
"Gov. DeSantis is America's governor and one of the most popular leaders in America," Charlie Kirk, founder and president of Turning Point Action, told Fox News. "He has become the model for a new conservative movement that is willing to stand on principle and to actually fight on behalf of the values of his voters."

Kirk added: "That he is willing to throw the full weight of his support behind Kari, Blake, and JD tells you everything you need to know about these incredible candidates who I endorse and support 100%."

Kirk said he believes Lake "will be the Ron DeSantis of the West, and Blake and JD will help break apart the uni-party consensus in Washington D.C., to stop the endless wars, the runaway spending and put an end to the cocktail party Republicans who seem to be good at one thing only – betraying their voters."

"Doug Mastriano has become a true champion of the grassroots in Pennsylvania and Rep. Yvette Herrell is poised to hold her critical seat in New Mexico's 2nd congressional district," Kirk continued, adding that DeSantis has "the unique ability to unite conservatives around these candidates."
Lake told Fox News she believes DeSantis has set the "gold standard" for conservative governance and looks forward to working with him.
DeSantis' tour to help "unite" the Republican Party will surely send a shiver down Democrats' spines, as it provides a further example of his rising power within the party.
Some Democrats have already read the writing on the wall and have begun to label the Florida governor as a "scarier" opponent than Trump in regard to the next presidential election. One political strategist predicted DeSantis could be the real candidate Biden faces off against, which could ultimately pose a serious threat to Democrats.
According to The Hill:
"To me, DeSantis is the scarier prospect," one Democratic strategist said. "He's a smarter version of Trump, he's way more strategic, and he doesn't have a hundred lawsuits at his feet."
"If Trump goes bust, and he very well may, he's the main guy I'd be watching," the strategist said of the Florida governor.
However, while it seems many conservatives are trending toward supporting DeSantis' eventual bid for the White House, some Republican lawmakers are still holding out. Wyoming Rep. Liz Cheney, who voted to impeach former President Trump, says she's concerned about DeSantis, especially his relationship with the former president.
Cheney, who is currently facing a fierce reelection battle, told New York Times reporter Jonathan Martin that while she may support a Republican in 2024 it definitely won't be Trump and she's not convinced by DeSantis either.
"I think that Ron DeSantis has lined himself up almost entirely with Donald Trump, and I think that's very dangerous," Rep. Cheney said.