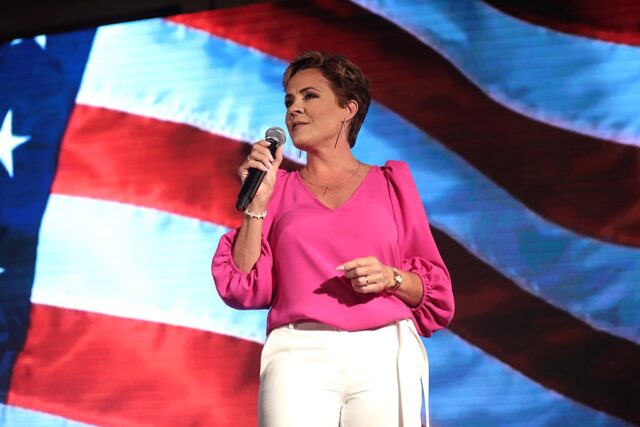 Former television news anchor-turned-staunch Trump supporter Kari Lake has been declared the winner of Arizona's highly competitive gubernatorial primary.
With an estimated 94% of ballots counted, Lake has 46.78% of the vote, compared to Karrin Robson with 44.03%. Lake will now face off against Democratic nominee Katie Hobbs in the November 8th general election in what is expected to be one of the most closely watched races in the country.
Early Wednesday, Lake prematurely declared victory in the GOP primary while addressing supporters."I wanted to come out here tonight, I wanted to say, 'Wow, we already have the final results,'" she said. "But we know how our election systems work and they don't work well. And that's one of the reasons why I'm standing here."
With three-quarters of the vote in, Robson led Lake by eight. However, Arizona is a state where mail-in ballots get tabulated first. Then, Election Day votes are counted. The process is the same in Florida. The result, depending on the order chosen by a given state, created red and blue mirages in 2020, given Democrats' tendency to vote by mail and Republicans' overwhelming desire to vote on Election Day.
Two years ago, that phenomenon lead to Biden leading Trump by four points in increasingly reddish Florida early on election night before Trump overtook him by a relatively decisive three-point margin. For Lake — who won the Election Day count in some precincts by as much as 40 points — the result was the same.
The highly anticipated race set up a proxy war between former President Donald Trump and his Vice President Mike Pence. Trump, who has become a kingmaker of sorts within the GOP threw his support behind Lake. Meanwhile, Pence and current Arizona Governor Doug Ducey chose Robinson.
Trump's endorsements have become a sort of gauge of his own power within the GOP as he toys with launching a third presidential campaign.