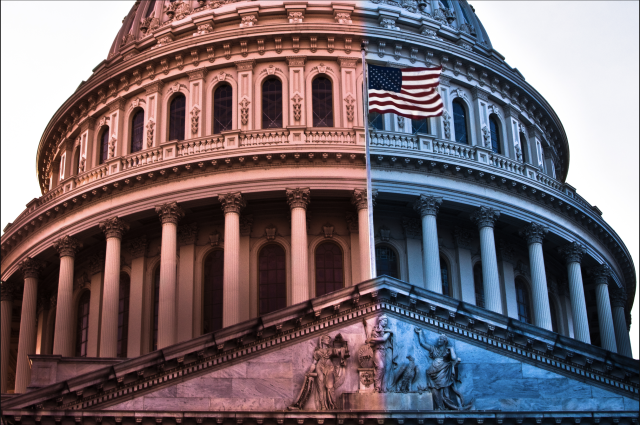 The Arizona Democrat Party is reportedly suing to stop a third-party organization from accessing the state's presidential ballot in the 2024 election. 
The lawsuit targets No Labels, a centrist group that aims to give voters a "non-extreme" presidential option and has secured ballot access in three states, including Arizona. 
Early reports from The Washington Post indicate the lawsuit targets Arizona Secretary of State Adrian Fontes (D) alleging he erroneously accepted signature petitions from the group.
According to Fox News, Arizona Democrats also claim that No Labels which was established in 2010, a registered 501(c)(4) nonprofit organization has failed to comply with federal election laws governing political parties, including donation limits and donor disclosure. Nonprofits are not legally required to disclose donors.
"No Labels is not following the rules for political party recognition, while attempting to be placed on the ballot alongside actual, functioning political parties who do," Arizona Democratic Party spokeswoman Morgan Dick told The Washington Post. "Arizonans deserve better and voters deserve to know who is behind this shadowy organization and what potentially nefarious agenda they are pushing."
Ryan Clancy, the chief strategist for No Labels, blasted the lawsuit.
"This undemocratic and unscrupulous lawsuit is a disgrace," Clancy said in a statement. "Next time you hear this crowd talking about protecting democracy, remember what they are really doing is protecting their turf."
Democrats fear that No Labels' efforts to gain access to the ballot in Arizona and other states could work against President Biden's re-election.
However, No Labels contends its "unity ticket" would draw support "equally" from both parties.
"At some point in the future, it could become clear that the public doesn't want an independent ticket or that there is no path for one to win. Or we could find that there are no candidates with broad appeal or the courage to take on this challenge. If that happens, No Labels will not offer our ballot line to any presidential candidate," the group said in a statement earlier this month.
The group has courted centrist lawmakers in Washington, D.C., such as Sens. Kyrsten Sinema (I-Ariz.) and Joe Manchin (D-W.Va.) 
Larry Hogan, a former two-term Republican governor of Maryland and honorary co-chairman of No Labels, has also been floated as a potential third-party candidate. Hogan has previously said he wouldn't rule out a third-party presidential bid if Biden and Donald Trump are the Democrat and Republican nominees in 2024.