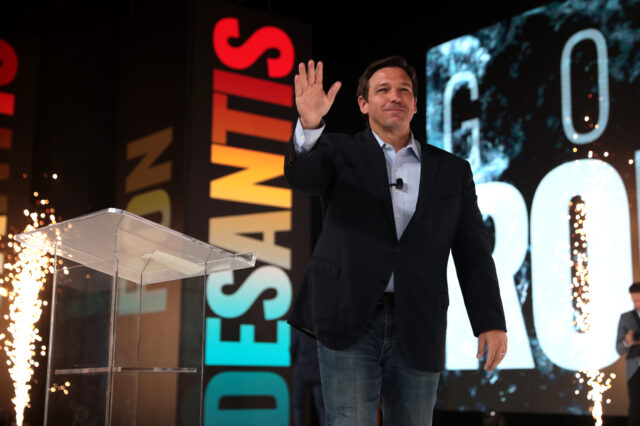 Florida Governor Ron DeSantis is finally responding to the surprise attack from former President Donald Trump last week, calling it "noise."
DeSantis was asked by a reporter what he thinks about Trump's "big announcement" tonight and his thoughts about Trump repeatedly attacking him. (RELATED: Trump Goes Nuclear on Gov. Ron DeSantis, Glenn Youngkin)
"Well, you know, one of the things I've learned in this job is when you're doing, when you're leading, when you're getting things done, you take incoming fire, that's just the nature of it," DeSantis said. "I roll out of bed in the morning, I've got corporate media outlets that have a spasm, just the fact that I'm getting up in the morning, and it's constantly attacking, and this is just what's happened."
"I don't think any governor got attacked more particularly by corporate media than me over my four-year term," DeSantis continued. "And yet, I think what you learn is all that's just noise. And really what matters is: Are you leading? Are you getting in front of issues? Are you delivering results for people? And are you standing up for folks? And if you do that, then none of that stuff matters. And that's what we've done."
"We focused on results and leadership. And, you know, at the end of the day, I would just tell people to go check out the scoreboard from last Tuesday night," DeSantis continued. "The fact of the matter is, it was the greatest Republican victory in the history of the state of Florida."
Trump also targeted Virginia Governor Glenn Youngkin in a shocking message. Both Republican governors have been floated as potential contenders for the Republican presidential nomination.
Trump is expected to announce his 2024 presidential campaign in a Nov. 15th announcement from Mar-a-Lago.
However, while DeSantis has decided to move past Trump's comments the former president seems to be doubling down. In a Tuesday afternoon Truth Social message Trump targeted DeSantis again by pointing out a 2018 gubernatorial ad in which the Florida governor praises him.
In a tongue-in-cheek ad, seemingly no longer available on his YouTube page, DeSantis was shown building a toy wall and reading a book about Trump to his children, brandishing himself as a "pit bull Trump defender." 
"Hopefully TODAY will turn out to be one of the most important days in the history of our Country," Trump teased in another Truth Social post.