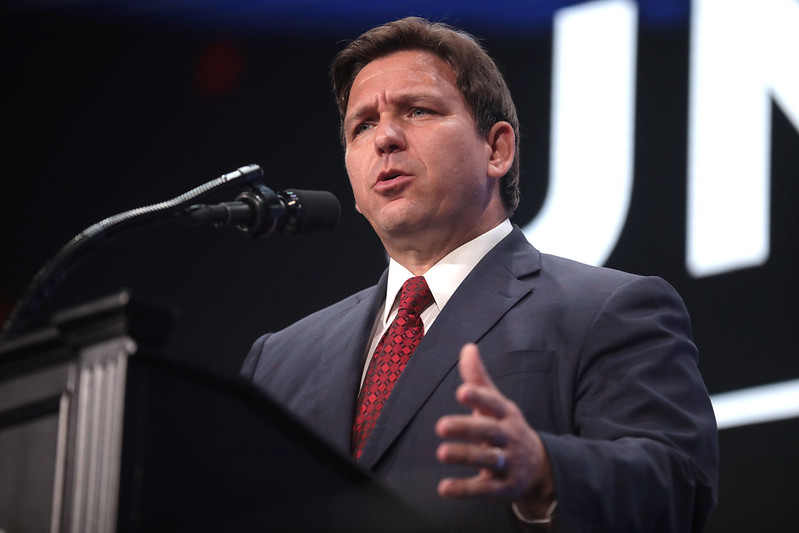 Donald Trump is known for his bombastic personality and his no-nonsense approach to politics but while that attracted voters and donors in 2016 it seems to be having the opposite effect now.
Major Republican donors seem to be turned off by Trump's recent attacks on GOP challengers, especially Florida Gov. Ron DeSantis.
Donald Tapia, a prominent businessman from Arizona and Trump's former ambassador to Jamaica from 2019 to 2021, was a strong financial backer of Trump in 2016 and 2020, contributing hundreds of thousands of dollars to the former president over his two elections.
"The name-calling has turned a lot of people off," Tapia said to Politico. "Let me tell you, we don't like that."
Tapia is now amongst a growing group of Republicans choosing to throw their support behind DeSantis, despite the fact he hasn't even launched a presidential campaign yet.
Recently, DeSantis has been the target of a number of Trump's Truth Social tirades, even earning the nickname "Ron DeSanctimonious."
However, despite Trump's barrage of attacks the Florida governor has opted to play coy, a tactic that seems to be drawing in more and more supporters.
Popular podcast star Joe Rogan recently defended the Sunshine State governor from Trump's criticsms.
"All of the Fake News is reporting that I spend large amounts of my time coming up with a good 'nickname' for Ron DeSanctimonious, who is obviously going to give the presidential 'thing' a shot," Trump claimed. "They are all 100% wrong; I don't even think about it — A very unimportant subject to me!!!"
When Rogan's guest noted that Trump was losing "losing his touch" in coming up with nicknames, Rogan responded that the task would be even harder for Trump to do with the Florida governor.
"Well, there's not a good one that you can come up with for Ron," Rogan said. "Because Ron, he's too good with that base and his success in Florida is pretty unparalleled."
"I think Ron DeSantis would work as a good president. I think, I mean, what he's done for Florida has been admirable," Rogan said last summer. "I feel like what he did for Florida, a lot of people gave him a lot of grief, but ultimately, he was correct. He was correct when it comes to like deaths. He was correct when it comes to protecting our vulnerable populations. He was correct in terms of distribution of monoclonal antibodies, and he was furious when the government tried to pull those, they were trying to pull very effective treatments."
Earlier this week, DeSantis finally shed some light as to when Americans can expect his decision on a White House run.
During an appearance with "Fox & Friends" DeSantis charted out the next few months saying that he will embark on a tour to promote his new book, "The Courage to be Free," and work through the Florida legislature's regular session, which begins in early March.
"We're going to sell some books, we're going to spread the message of Florida. And then on March 8, I have our Legislative Session that's kicking off," DeSantis said.

"You ain't seen nothing yet," he added. "This is going to be the most productive Legislative Session we have had across the board and I think people are going to be really excited … So those are what we're going to be doing over these next few months as we get beyond that, then we can decide from there."