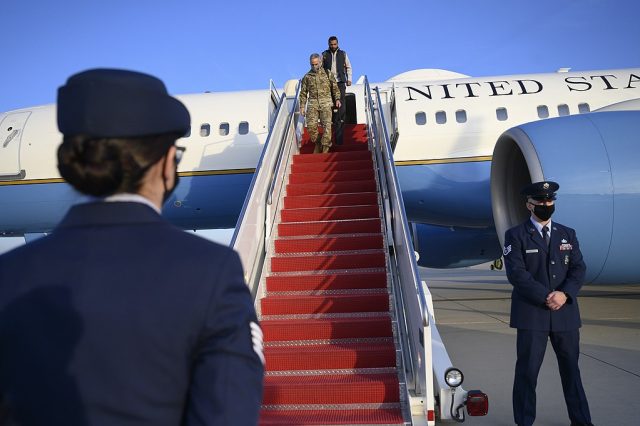 The Justice Department is reportedly seriously contemplating offering former Trump adviser Kash Patel an immunity deal in exchange for his testimony about claims that highly sensitive government documents the FBI seized from the former president's Mar-a-Lago resort were declassified.
According to sources close to the matter, the DOJ is considering the special deal because Patel was one of Trump's appointed representatives with the National Archives and therefore could have knowledge of how Trump handled the records seized from Mar-a-Lago.
According to The Guardian, Patel started the Trump administration by railing against the Russia investigation when he served on the House intelligence committee's Republican staff and ended it as chief of staff to the defense secretary.
During its August raid, the FBI seized thousands of pages of documents from the former President's Florida residence. Throughout its investigation into whether Trump violated the Espionage Act, the DOJ has honed in on roughly 100 documents and whether they were-as Trump has claimed- declassified before leaving office.
Trump, Patel, and other confidantes have made claims about the declassification of the documents but the former president's legal team has yet to make the assertion in court.
Justice Department officials are examining whether to allow federal prosecutors to seek an order from the chief US district court judge in Washington Beryl Howell granting Patel limited use immunity to compel his testimony on the declassification issue and other matters, the sources said.

The justice department had sought testimony from Patel when he was summoned to testify before a grand jury in Washington hearing evidence about Trump's potential mishandling of national security materials and obstruction when he appeared resisted requests for their return, one source said.

But Patel asserted his fifth amendment right against self-incrimination to an array of questions at the 13 October appearance, the source said, though the basis for some was not clear; even if the documents were not declassified, making false public statements would probably not be a crime.
The Justice Department is not prone to offering immunity deals because it can potentially make bringing charges against the person in the future more difficult. The approval must also come from the top echelons of the DOJ according to guidelines, and the preference for prosecutors to obtain testimony is to have defendants plead guilty and then have them offer cooperation for a reduced sentence.