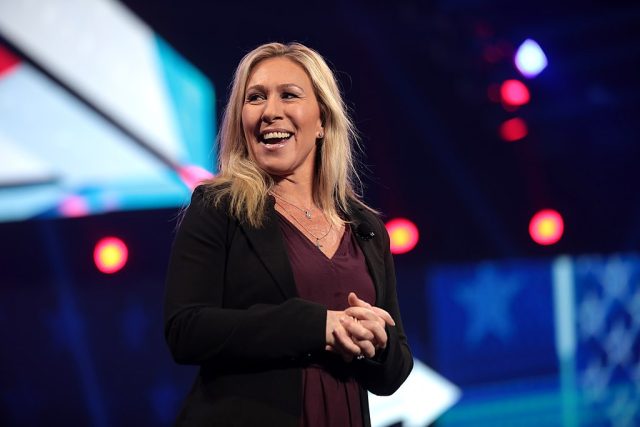 ANALYSIS – Is Rep. Marjorie Taylor Greene (R-Ga), otherwise known as MTG, a firebrand conservative who tells it how it is, or is she a loud-mouth who doesn't know when to shut up? 
Well, as I have noted before, I think she is a bit of both.
I often agree with Greene, and she does bluntly say a lot of things that need to be said. Sometimes she just says really dumb things.
In this case, she called Joe Biden's Secretary of Homeland Security (DHS) Secretary Alejandro Mayorkas a liar. 
Or more accurately, yelled at him that he was a liar.
She also said Democrat Congressman Eric Swalwell, from California, had a sex with a Chinese spy.
To be clear, I think Mayorkas is a liar, and a disgrace to his post, and to all Americans of Cuban heritage, such as myself. He is also a Biden puppet and a national security risk due to his actions and inactions at the border.
But sometimes it's not what you say that matters, it's how, and where.
And in this case, the GOP-led House Homeland Security Committee may not have been the place, and 'liar' may have been too blunt a term to be yelled at a cabinet secretary testifying before Congress.
She should probably save those truths for other venues. Or simply say "that isn't true."
So, in a rare bipartisan act, the committee formally silenced Greene, 'taking down' her comments, and ending her line of questioning.
"It's pretty clear that the rules state you can't impugn someone's character. Identifying or calling someone a liar is unacceptable in this committee, and I make the ruling that we strike those words," Committee Chairman Mark Green (R-Tenn) said, according to NBC News.
And I can see his point.
But it's a fine line, especially since MTG's 'liar' outburst followed a similar line of questioning by Chairman Green where he less bluntly accused Mayorkas of lying to Congress about DHS maintaining operational control of the border.
"Not only have you lied under oath; you just admitted your own incompetence," Green said in an earlier round of questioning where he referenced Team Biden's response to tackling cartels.
So it really is how you say it that makes the difference.
MTG's comments about Swalwell however, didn't get a Republican reprimand. And I'm glad they didn't.
Swalwell absolutely had a dangerous, long-term liaison with an attractive, female, suspected communist Chinese spy – Christine Fang.
It was likely sexual in nature. And as I wrote earlier, several other Democrat politicians likely had sex with her too.
The FBI said they found no evidence Swalwell shared classified intelligence with her, but the Bureau never truly investigated the sexual relationship aspect before the spy fled back to China.
At the hearing, Swalwell showed a poster that depicted a defund-the-FBI campaign with Greene's face on it. Greene retorted by saying his criticism was rich coming "from someone that had a sexual relationship with a Chinese spy, and everyone knows it."
Democrats quickly moved to strike her words, arguing it violated House rules on making attacks based on personality, and MTG declined to withdraw them voluntarily.
However, in that case, Republican leaders declined as well.
Minutes later, Greene accused Mayorkas of failing to prevent the flow of fentanyl into the United States.
"Congresswoman, let me assure you that we're not letting it go on. We are fighting this," Mayorkas responded. MTG then yelled: "You're a liar! You are letting this go on, and the numbers prove it!"
And she is right. Mayorkas is letting these deadly drugs into the U.S., by the truckload.
But that second outburst sealed the deal for Republican leaders against MTG during the hearing.
In his closing remarks the Chairman said, "we do need to dial the rhetoric down in the country and apparently in the committee." apparently in the committee." 
That's probably something we should all agree on.
Opinions expressed by contributors do not necessarily reflect the views of Great America News Desk.