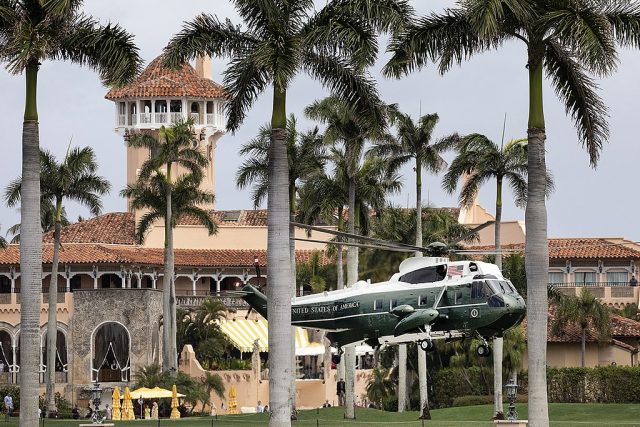 At least a dozen people ranging from members to employees of Donald Trump's Mar-A-Lago estate have been subpoenaed as part of the Justice Department's ongoing probe into the former president's handling of classified materials.
According to an exclusive report from CNN, multiple sources close to Trump's inner circle confirmed that multiple individuals have been subpoenaed to testify to a federal grand jury, intentionally casting a "wide net."
The report noted that Trump's communications aide Margo Martin, who worked in the White House and then moved with Trump to Florida, appeared before the grand jury in Washington, DC earlier this week.
Special counsel Jack Smith has sought testimony from a range of people close to Trump. He's targeted Trump's own attorneys who represent him in the matter as well as staffers who work on the grounds of Mar-a-Lago, including a housekeeper and restaurant servers.
The staffers are of interest to investigators because of what they may have seen or heard while on their daily duties around the estate, including whether they saw boxes or documents in Trump's office suite or elsewhere.

"They're casting an extremely wide net – anyone and everyone who might have seen something," said one source familiar with the Justice Department's efforts.

For instance, federal investigators have talked to a Mar-a-Lago staff member seen on security camera footage moving boxes from a storage room with Trump aide Walt Nauta, who has already spoken with investigators.
The report noted that many of the Mar-a-Lago staffers are being represented by counsel paid for by Trump entities.
The Justice Department has been investigating potential mishandling of national security records and possible obstruction. Last August, FBI agents conducted a raid on Mar-A-Lago and recovered more than 100 classified documents during a search.
Earlier this year, documents marked classified were found in the Penn Biden Center thinktank in Washington, D.C. Shortly after a subsequent search found classified documents in President Biden's Delaware homes.