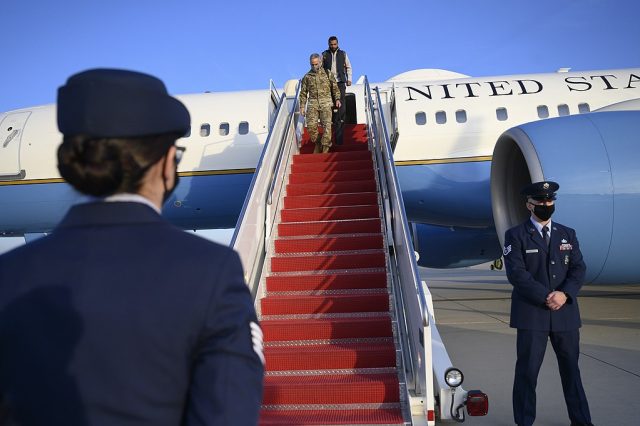 Former Trump National Security Council official Kash Patel filed a lawsuit against FBI Director Chris Wray and former Trump Justice Department officials, accusing them of violating his Fourth Amendment right to protection from unreasonable searches and seizures.
In the lawsuit filed Monday, Patel alleges that Wray and others violated the Fourth Amendment when they tried to obtain Patel's personal records.
Just The News reports:
The FBI and Justice Department officials in the lawsuit obtained a subpoena in November 2017 for Patel's "personal information as part of a politically motivated investigation," Google handed over responses to the subpoena the following month, the lawsuit obtained by Just the News states. 
Patel said he was kept in the dark about the subpoena until he was notified by Google in 2022.
The defendants, which include then-Deputy Attorney General Rod Rosenstein, "improperly and politically targeted Mr. Patel's personal records because of his official position and actions in furtherance of the United States House of Representatives' lawful investigation into the Department of Justice's handling of the Crossfire Hurricane investigation," the lawsuit also states.

Patel's private accounts were subpoenaed while he worked as senior counsel and chief investigator for then Rep. Devin Nunes, R-Calif., on the House Intelligence Committee investigating the FBI and Justice Department for their conduct in Crossfire Hurricane, the federal investigation of the since-disproven allegations that the Trump campaign coordinated with Russia to win the 2016 election.

In addition to Rosenstein and Wray, the defendants also include Rosenstein's aide Robert Hur, who is now leading the probe of President Joe Biden's alleged mishandling of classified documents, former U.S. Attorney for D.C. Jesse Liu, former Justice Department National Security official Ed O'Callahan and two unnamed John Does.